Inside Office 2003

Microsoft has decided that we users have become pretty darn productive. Though Office "suites" of the past were all about helping individuals work faster and smarter, Microsoft's new Office "system" focuses squarely on getting users to work together faster and smarter. Suites, including Office, have pushed group features since the mid-1990s. But in Office 2003, for the first time, changes to the package's bread-and-butter apps are so slight that you could miss them. The significant news for people flying solo is in just one program: The revamped Outlook 2003 has a smarter interface and handy added features.
True, the company has given Word 2003 a Reading Layout view that makes perusing your documents more like thumbing through the pages of a book. The new versions of Word and Excel give you a nifty way to do research from inside the document you're working on. And Tablet PC owners no longer have to download an update to make Office work on their machines. But if you live only in Word and Excel and aren't part of a workgroup, the notable changes end there.
The software "feature wars" are over. In these lean economic times, Microsoft will find persuading corporations to upgrade to Office 2003 difficult, so the company is surrounding the update with a careful marketing strategy, promoting it as a way to solve business problems and streamline group work. Microsoft sees Office 2003 as a tool that enhances your ability to perform tasks such as compiling sales forecasts and creating reports. The program's expanded XML capabilities star in this vision.
XML, or Extensible Markup Language, lets a company tie data from a back-end server database such as Microsoft SQL Server or Oracle to the Office documents its employees use day in and day out. This keeps everyone working with the most up-to-date information, such as current inventory figures or the latest marketing material. Also for groups, Microsoft has added new document-collaboration features and a technology to lock down confidential documents electronically.
Not everyone wants or needs all of the group capabilities, however, which brings up Office 2003's other twist: Microsoft has cooked up six different "Editions" (see the chart for pricing). Luckily, no file-compatibility issues lurk between the versions of the applications in the different Office bundles.
But there are two caveats. First, for an organization to use many of the new group features, everyone must have the Professional Enterprise or Professional version. Second, the people who create a group's XML forms and do the back-end data work need the Professional Enterprise or Professional package. Others in the company can read or save XML-enabled documents with the less-expensive Standard and Small Business bundles, but they can't create the schemas that are the magic behind the technology (see "Office 2003 and Your Workgroup").
For the most part, Microsoft is holding the line on Office 2003 pricing (again, see the chart). The MSRP and upgrade prices are the same as those of the corresponding XP products, for the Editions as well as for the stand-alone apps. Outlook 2003 is the exception: While the program's cost remains $109, no special reduced prices will be offered to upgraders.
Outlook's New Look
Current Outlook users will have one burning question about the revamped version: "Does it help me clean up the mess that is my in-box?" After spending several months with the beta version of the new Outlook, we say the answer is a definitive yes.
Outlook's makeover starts with the new vertical default view. On the left side, a navigation pane lists your e-mail accounts and folders; the middle in-box pane displays your received messages; and on the right, the reading pane (called the "preview" pane in earlier versions) shows the contents of the selected message.
Reading these vertical panes feels more natural, much like perusing a newspaper. You can see more messages at one time in the in-box, and you can view more text from the selected message in the reading pane without having to scroll (see FIGURE 1

FIGURE 1: The new vertical layout in Outlook 2003 makes it easier to read the message selected in your in-box. And the program's new flags make organizing your in-box a snap.

). The new layout may look busy at first, but you'll soon find that the vertical orientation makes messages quicker and easier to read than they were in Outlook's previous horizontal preview pane. Close the reading pane to see more of your in-box messages, or move the pane to the bottom to approximate Outlook's old look.
Appearances matter, but what could really win over Outlook holdouts is the program's new organizing prowess. You can now choose one of six colors when you right-click the flag for each in-box listing. (The previous version let you flag individual messages for follow-up, but the flags weren't particularly useful.) Group your messages by arrival time, and Outlook labels the groups 'today', 'yesterday', 'last week', and so on. Or arrange your in-box by flag--for example, with all red-flag messages up top. If you flag e-mail as it arrives, this system presents messages in their order of importance. Don't get too fancy with your color system, though: You can't add a text description (such as 'high-priority') to your flags, nor can you save a key to identify what your colors represent.
The Tools menu's 'Rules and Alerts' option helps you make flags work even better. For instance, you can set up a rule instructing Outlook to automatically flag e-mail from a particular person--your boss, perhaps--in a specific color (see FIGURE 2

FIGURE 2: Send messages from specific people to the top of your in-box by creating a rule for one of Outlook 2003's six colored flags.

).
The icing on Outlook 2003's organizational cake is the program's ability to keep searches in search folders, without moving the messages from your in-box. This saves time by letting you create a search for a word relating to a current writing project, for example. After the initial search, Outlook continues to update the folder, so every time you click that search folder, the program grabs all the new messages you've received that contain the specified word. The function makes getting a grip on the random information lurking in your e-mail much easier. You can choose from preset folder options, such as 'containing the word', or customize your search to look only in messages with one or more attachments, for example. This is what well-designed software is supposed to do--save you time and get you organized.
If you love to read about "generic Viagra" and get-rich-quick schemes, you'll hate Outlook's new junk mail screener. For everyone else, it's a gem. Outlook 2003 intelligently routes much genuine spam into a Junk Mail folder. Open it when you want to view the message subjects, and then delete them en masse.
Outlook 2003 also prevents messages from grabbing material off the Web, such as images of products sent in an e-mail message from a store, and it automatically stops e-mail from loading malicious content onto your PC. When a message tries to connect to the Internet, you see a small alert; right-click it and select Download Pictures to see the content. Outlook remembers who is sending you junk and who isn't (a store you like, for example).
The latest version of Outlook offers a bonus for small businesses. Office 2003 Small Business Edition includes the new Business Contact Manager, a good-looking Outlook add-on that does basic customer-relationship management tasks, such as tracking your sales pitches from start to finish and your projected results for the month or quarter. For anyone who isn't already charmed by Act or another contact-management program, the Business Contact Manager represents a useful extra.
Office 2003 unveils Microsoft's Information Rights Management technology, designed to help companies control documents and e-mail. The Professional and Professional Enterprise packages, running on Windows Server 2003, let you create "protected" e-mail messages that can't be printed, forwarded, or copied.
You can also create Word, Excel, and PowerPoint documents with similar restrictions and/or expiration dates, after which the files will not open. One point of IRM is to prevent someone from goofing up a document on which you've worked long and hard--a presentation with a corporate-mandated color or graphics scheme, for example. But IRM's main goal is to control the flow of information and thereby provide another layer of protection against corporate legal troubles and leaks.
Recipients of IRM-protected files will need either Office 2003 or a viewer that Microsoft plans to offer on its Web site and incorporate into Internet Explorer. IRM could help companies lock down confidential documents, but there's potential for aggravation. For instance, what if you send IRM-protected files to people who use a Web browser other than IE? Whether the Microsoft viewer will play nicely with other browsers remains to be seen.
If Outlook is your primary e-mail client and contact manager, you'll find that spending $109 for the new version's fresh look and other enhancements is worthwhile. However, the improved Outlook is not sufficient justification for a total Office remodel.
Word 2003 and Excel 2003: Ho-Hum
Next to e-mail, word processing and spreadsheets dominate many people's work. Office 2003 will not fundamentally change the way most folks use Word and Excel--particularly users who aren't part of a workgroup. Neither application has received anything like the overhaul that Outlook 2003 enjoys; but then again, they didn't need extensive retooling the way Outlook did.
Word 2003 sports one change that users who spend hours glued to their monitors will appreciate: The new Reading Layout option displays your document in side-by-side "pages" so that it resembles a book (see FIGURE 3

FIGURE 3: Reading long documents is more natural with the two-page look available in Word 2003's new Reading Layout view.

). ClearType technology makes the text easy to read in this mode, and you can quickly increase or decrease the size of the text via toolbar buttons without goofing up the document's fonts or formatting. With large text, the Reading Layout definitely pleases the eyes. As a bonus, the Reading Layout clears out some toolbar clutter.
In the beta version of Office that we tested, "flipping" to the next page in the Reading Layout advances the document one page at a time: The page on the right moves to the left, and the next page appears on the right. Microsoft states that the shipping version will flip directly to the next pair of pages (truly like turning the page of a book) rather than "turning" one page at a time.
Word 2003 can display thumbnails along the left side of the screen, too, with icons representing each page in a document. This arrangement reduces your reading real estate, but it could be useful for navigating through a long report, for example.
Another new feature you'll see in the 2003 versions of Word and Excel, as well as in Outlook 2003, is the Research Task Pane, which enables you to find a word's definition, use the built-in thesaurus, translate to and from a foreign language, or do a Web search--all without leaving your document (see FIGURE 4

FIGURE 4: Search the Web in Office 2003's Research pane without opening your browser.

).
Microsoft sees a day when media companies, market research firms, and other partners will provide specialized content keyed to your research. As time passes, we'll see how that plays out.
Our verdict? The Research pane is truly useful only in Word. You're not likely to need to research a concept as you write an e-mail message or work on a spreadsheet. And if you prefer Google over MSN Search, you can't add Google to the list of search options inside the Research pane. Microsoft says it will offer free tools so that sites such as Google can make their services available in the pane, but you'll have to wait for these tools to emerge.
Microsoft touts Word 2003's enhanced integration with Internet faxing, which works if you use one of the three services the company currently supports: Venali, and J2's JConnect and EFax.
Ultimately, unless you're part of a workgroup, the Reading Layout view and the Research pane may be the only noticeable changes in Word. You'll find no feature differences among the versions of Word in the various Office bundles, except the XML capabilities and groupware functions in Pro and Pro Enterprise.
No star features shine in Excel 2003's revamp, either. The Professional Enterprise Edition offers the lone interesting new feature, List Management. (This is the only major feature difference among the versions of Excel, excluding the XML and groupware functions.) When you're working on a spreadsheet involving categories such as months or types of expenses, List Management enables Excel to see that the information is related, and the program will carry over the existing formatting and calculations as you add to the spreadsheet.
Excel veterans may lament that Microsoft didn't address several longstanding complaints regarding the program, voiced in PC World's July 2001 review of Office XP. For example, it failed to improve the 3D charting options, which are acceptable but could certainly be prettied up and expanded.
Office 2003 and Your Workgroup
Microsoft is clearly stressing the new functions for workgroups and enterprises, envisioning Office 2003 as improving how you handle tasks within your organization that are susceptible to delays or inaccuracy due to old information, such as product brochures and customer-service reports. How well this works in practice depends largely on you and your colleagues, of course.
The Professional and Professional Enterprise versions of Word and Excel let you create schemas, which are the "extensible" elements in XML, allowing users to give detailed and customized descriptions of the data they're entering. Using XML in Office apps could give the people who share the documents more accurate data automatically. For instance, it could connect sales and presentation files so that when someone doing a presentation brings up a slide with sales data, the slide always shows the latest numbers.
InfoPath, which ships only with the Professional Enterprise Edition ($199 separately), lets you design forms to interact with information residing in databases or in other back-end systems. Microsoft expects the program to accelerate the processing of data from human resources and inventory systems, for example.
New features in Office 2003's SharePoint 2 server could improve a team's efficiency by providing a shared workspace. Currently team members likely exchange via e-mail the Word and Excel documents that make up, say, a marketing report.
For many corporations, the good news is that Office 2003 could help groups work together better. For individuals, though, the good news is that you can save your money: Aside from Outlook, and a few tricks added to Word and Excel, there's not much new in this Office.
Office Lineup: The Six Office 2003 Editions, App By App
Only the Professional Enterprise Edition includes the new InfoPath XML program, while the Business Contact Manager debuts in the two Professional versions and in the Small Business bundle.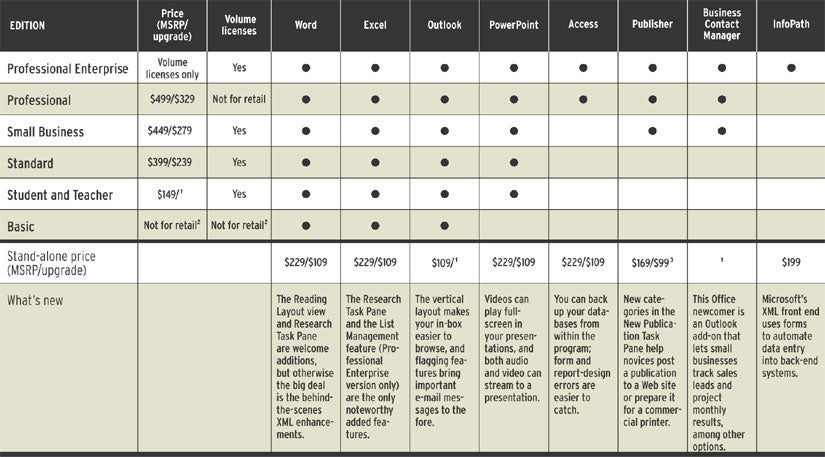 FOOTNOTES: 1Not applicable. 2Preloaded with new PCs. 3Publisher with Digital Imaging costs $209 ($139 upgrade).
CHART NOTES: The Office 2003 system also includes the stand-alone applications FrontPage 2003, OneNote, Project 2003, SharePoint Portal Server, and Visio 2003. See "Visio and FrontPage Get Major Overhauls."
Should You Upgrade?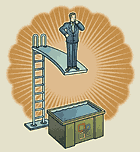 Is it time to redecorate your Office? If you're still using either Office 97 or 2000, an upgrade to Office 2003 is well worth the price for its revamped Outlook and for such improvements as Word's new Task Panes, which debuted in Office XP. If you already use Office XP, however, your upgrade decision will depend more on your individual work situation.
The one-person office: Upgrade Outlook only. The changes in Word, Excel, and PowerPoint aren't worth the money.
Corporate workgroups: Upgrade to Office 2003 if your company will use the XML and group features. Otherwise, consider upgrading just Outlook. Remember, the people in your organization who create the XML forms and set up the data links will need the Professional or Professional Enterprise version; the other Editions permit users only to read and save XML-enabled documents.
Small businesses: The new version of Outlook, the Business Contact Manager, and Publisher 2003's enhanced New Publication Task Pane may justify your upgrading to the Small Business Edition. But if you're already hooked on Act--or if you use only Word, Excel, and Outlook--upgrade Outlook alone.
L.M.
What's New in PowerPoint, Access, and Publisher

Much like the 2003 models of Word and Excel, the new versions of the other Office apps gain merely utilitarian, undramatic enhancements. Here's a rundown of the most noteworthy changes in these programs. (The chart lists which Editions include each app.)
PowerPoint 2003: You can now play .avi, .mpg, and other video files full-screen from within your presentations; you can place video playback controls directly in the slide show; and you can stream both audio and video into your presentations. The new version also makes it much easier to place your PowerPoint files onto a CD.
Access 2003: The new version lets you back up the database you're working on without having to exit the program. Access 2003 can now discover errors in forms and in report designs automatically, and the program even suggests corrections. Database administrators will appreciate the added feature that lets them identify object dependencies more easily.
Publisher 2003: Microsoft has added 10 design templates to the program, bringing the total number of templates to 45. Publisher's enhanced Design Checker Task Pane makes it easier than ever to ferret out and fix potential problems with printing or Web publishing. The New Publication Task Pane's new categories help neophytes prepare a publication for print, for posting to a Web site, or for e-mail transmission. Sending your output to commercial printers is simpler and faster with the program's added support for CMYK Composite Postscript. And you can now choose one of eight personal stationery sets for making address cards, letterheads, envelopes, labels, greeting cards, and invitations.
Dennis O'Reilly
Right Tool, Wrong Market
Microsoft's chair didn't put the "Bill" in billionaire by misreading the market for his company's software. But with OneNote, Mr. Gates's marketing machine may be barking up the wrong tree.
The debuting member of Microsoft's Office 2003 "system" is actually sold separately from the various Editions. The company presents the $199 program as a way for PC users--primarily those who work with Tablet PCs--to replicate the experience of writing longhand in a paper notebook. You can scribble on any part of the page to make rough sketches to accompany your notes (whether typed or written longhand).
The problem is: What do you do with the notes? Though OneNote converts digital writing to text, only users who excelled at elementary school handwriting lessons will find the process automatic. For the many people--including me--whose handwriting is less than impeccable, writing in OneNote produces incomprehensible combinations of letters, numbers, and punctuation that look like a cartoon character's swearing (see FIGURE 5

FIGURE 5: Microsoft's new OneNote note-taking application lets you treat handwritten notes the same as typed text, but it flunks the accuracy test.

).
If you leave the body of your notes in your own handwriting, you'll have a tough time finding them again. OneNote shows individual files as tabs with the title of the note on the tab. And unfortunately, that text title is created through the same flawed handwriting-recognition system, which means I have to remember that my notes on an article about timesaving ideas are stored on a tab labeled 'T@ &v07'.
The real market for OneNote is a not-so-small niche: people who enter their notes from a keyboard. When you stop worrying about the app's poor handwriting recognition, you notice its nice qualities, one of which is its casual approach to file management. You never have to remember to save a note, because it happens automatically. Nor do you have to worry about where to save a note, since they all go to the same folder. To find a file later, you can search for it by keyword.
And OneNote is less picky than Word about formatting your note: Write where you want--even plop the contents of Web pages in the middle of your note--and OneNote won't impose its idea of how your document should look. This alone makes OneNote useful, as long as you use it with a keyboard and not a stylus.
Edward N. Albro