Page 6 of 10
Makeover: The Family With Budding Browsers
Hands-on Help: We contacted three survey respondents who wanted help on improving their privacy practices. Andrew Brandt, our Privacy Watch columnist and security expert, made house calls to help diagnose their problems and offer tailored solutions.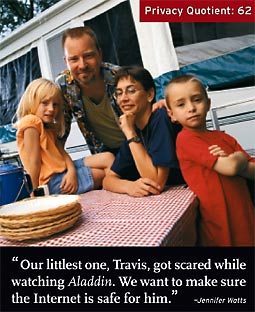 Names: Kevin and Jennifer Watts, and their children, Natalie, 7, and Travis, 6. Kevin is a technical sales representative based in Indianapolis for Braden Sutphin Ink Company; Jennifer is the treasurer for an elementary school parent-student group.
Kevin, whose cramped home office holds loads of memorabilia from the many years he's attended the Indianapolis 500 and Brickyard 400 auto races, takes his online computing hobbies as seriously as his offline ones. He plays in an online gaming league on a fast, custom-built PC. This office is also where the kids got their first taste of computing, and where they will soon start surfing the Web.
PC use: Two PCs in their home office, one with a broadband connection, the other with no Net access.
Frequent tasks: Kevin e-mails contracts, sales, and paperwork; maps his trips online; and plays games on the Web. Jennifer does Web research, accounting and budgeting spreadsheets, and e-mail correspondence.
What they do right: The Wattses do a great job of keeping up with patches and antivirus updates. He updates each PC's OS and most apps regularly, blocks pop-up ads, and lets the kids use the computer only when at least one parent is there with them.
Biggest problem: Network security and kid safety in the home office. The Wattses' two kids are about to take their first unsupervised steps onto the Internet, and Kevin had no software to protect them from the hazards that await children online. His passwords for his router and online accounts also needed improvement, and his PCs and printers weren't networked.
Solutions: I hooked up a Linksys 802.11b wireless router, which includes a hardware firewall, to their cable modem and added a wireless card to the second PC so it can share the broadband connection. With the router set up to give each PC a private, internal IP address, and with the ports that the Blaster worm uses to penetrate unprotected PCs blocked, the home LAN was safe. With Net Nanny Web filtering software in the PC that the kids will use, the little ones can surf without constant supervision. Finally, I set the Wattses up with a sub-$70 Ebp Lite password manager keychain from Mandylionlabs.com, so they can better safeguard their PCs.
Andrew Brandt