Page 7 of 10
Makeover: The Team With a Vulnerable Network
Hands-on Help: We contacted three survey respondents who wanted help on improving their privacy practices. Andrew Brandt, our Privacy Watch columnist and security expert, made house calls to help diagnose their problems and offer tailored solutions.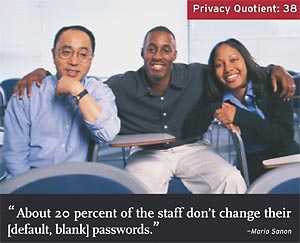 Name: Mario Sanon (pictured, center), New York-based IT staff member for Strive, a nationwide job-readiness training organization.
At Strive's East Harlem center, classes of up to 45 students spend 8 hours a day learning everything from résumé-writing to computer fundamentals such as how to perform basic spreadsheet tasks. Sanon, a self-taught PC technician; his supervisor, Nobukiyo Sato (pictured, left); and computer skills instructor LaShanti Jenkins (pictured, right) maintain an aging phalanx of donated PCs, answer student questions, and field support requests from employees.
PC use: Two PCs in Sanon's office, wireless networking components, hardware firewall, plus servers.
Frequent tasks: Checks several e-mail accounts, including Strive's general mailbox; supports the 130 PCs on Strive's network.
What he does right: Patches his own operating system and uses the Bigfix service, which lets him know when patches are available for the applications he uses; keeps his antivirus definitions up-to-date.
Biggest problem: Passwords and online safety. Mario uses just two passwords for all his online accounts, including bill-paying services. He lets employees use the default passwords for the network, and he does not require them to change those passwords periodically. Safe surfing has also become a problem: Kids have started visiting unsavory Web sites in the computer lab.
Solutions: I talked to Sanon and Sato about techniques they could use, and teach to others, that would help them learn to create and remember strong passwords (see our tips), and I advised them to require that users' network passwords be changed periodically. I gave Jenkins specific notes to help her teach her students why computer privacy and security are important, and offered some password creation and privacy tips to pass along. Finally, I provided them with several copies of Net Nanny to install in the computer lab used by the neighborhood kids.
Andrew Brandt