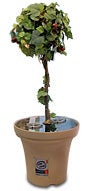 Think the PC is dead? Think again. The latest in PC technology was on display at the Computex exhibition held in Tapei last week, where desktop computers in a wide variety of forms--from wide-screen displays to potted plants--made an appearance.
Normally held in June, the annual trade show--one of the world's largest exhibitions of computing hardware--was postponed for three and a half months due to the SARS outbreak earlier this year. With fears of the disease and its impact on the tech industry now a distant memory, leading hardware makers from Taiwan and elsewhere put their latest products on display.
Decorative Desktops

Mitac International took the wraps off its Pentium 4-based E8181D widescreen PC, which resembles a 17-inch flat-screen television that can be tilted back to an optimum viewing angle. The PC's components are hidden from view and integrated into the rear of the display's base. Pricing for the system has not been determined and Mitac is currently holding talks with vendors that are interested in selling the PC under their own brand, says Royce Chang, spokesperson, noting the PC will begin shipping in October.

For users who want a Pentium 4-based PC that can be seen and not heard, Hush Technologies unveiled its Hush ATX computer, which uses heat pipes instead of noisy cooling fans to prevent the computer from overheating. More closely resembling a high-end stereo component than a computer, the PC features stunningly good looks, with an aluminum case and heat-dissipating fins along its sides. Available at the end of October, the Hush ATX will be offered with a selection of different processors from Intel and AMD, and is priced starting from $1204.
On the Lighter Side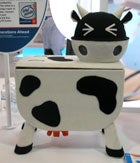 Intel showed off the lighter side of PC design at its booth, with a display of whimsical Pentium 4-based PC designs, ranging from one that looks like a potted plant, one in the shape of a cow, and one designed to look like books set atop a desk.
The potted-plant PC, built by Hsu Yu-nong, hides components like the motherboard in the plant's pot, with a squeezable lighted berry functioning as the power switch.
The book PC, designed by Tsai Syh, resembles books and other desktop items, such as a family photo. A stapler hides the PC's power button and a toy car is activated to let users know that the computer is running.
Stealing the Spotlight
Leading motherboard makers, including Micro-Star International, Asustek Computer, and Gigabyte Technology, showed off a range of new boards that support the Athlon 64. They were joined in their support for the Athlon 64 by chip vendors, such as Via Technologies, that put on display their latest chipsets for the new processor.
One standout in the crowd of Athlon 64 motherboards was Abit Computer's K8MAX3. Based on Via's K8T800 chipset for the Athlon 64, the motherboard incorporates a microcontroller, called Guru, that is designed to improve system monitoring and make troubleshooting easier.
The Guru microcontroller serves four functions: hardware monitoring, overclocking management, BIOS update, and a troubleshooting-assistance feature called Black Box.
The Black Box feature records system operating conditions in the event of a hardware failure. If a problem does occur, users can use Black Box to send their PC's system information to Abit's technical support via e-mail, making it easier for the company to diagnose what went wrong, says Scott Thirlwell, spokesperson.
The K8MAX3 will be available worldwide in mid-October for around $220.
Looking ahead, Abit has plans to incorporate Guru on all of its mainstream motherboards and add additional features, including a RAID management tool designed for gamers, Thirlwell adds. Normally associated with corporate computing applications that demand data backup and quick recovery, RAID will let gamers improve overall system performance by allowing the PC to read from and write to multiple hard disks simultaneously, and will protect against data loss in the event of a hard-disk failure, he says.
Short Supply?
While Athlon 64 motherboards were seen in abundance at Computex, the new processor is in limited supply. That means PCs based on the chip aren't expected to appear in large volumes until early next year, companies say.
AMD has told PC makers that 100,000 Athlon 64 chips will be available worldwide during the fourth quarter, according to James Chen, the head of Acer's desktop PC products line.
Calling that number "too small," Chen says Acer plans to hold off on the introduction of Athlon 64-based PCs until next year. The company will roll out its first Athlon 64 systems in Europe during the first quarter, with worldwide availability during the second quarter, when more Athlon 64 chips are expected to be available, he says.
In addition to Athlon 64 systems, Acer has several other new computers that are scheduled to start shipping in the coming months.
Acer's Product Plans
The company plans to ship two new notebook models before the end of this year, according to Campbell Kan, the chief officer of Acer's notebook products line.

The Aspire 2000 notebook has a 15.4-inch widescreen TFT LCD and offers the choice between viewing DVDs under Windows XP or in a Linux-based, instant-on mode that allows users to access the laptop's DVD playback function within 10 seconds, Kan says. The company will also update its line of Tablet PCs, with the introduction of the TravelMate C300, which has a 14.1-inch screen that can be rotated and folded back, flat against the keyboard. This feature allows the C300 to be converted from a notebook form factor into a tablet.
Both the Aspire 2000 and TravelMate C300 are based on Intel's Centrino platform and will be available during the fourth quarter for around $2000, Kan says.
Smarter Desktops
On the desktop side, Acer will update its Aspire home PC line with new models that are expected to be launched by the middle of next year, Chen says. Among the features that will be added to the new Aspires, Acer plans to add support for Microsoft's Smart Display technology. This will allow two users to access a single computer from a remote display. The software will also support video streaming to the remote display over 802.11a or 802.11g wireless networks, he says.
Acer plans to sell two versions of the Smart Display, a 12-inch model and a 17-inch model, Chen says. While pricing for the Smart Displays has yet to be finalized, the company hopes to sell them for 80 percent of the cost of a second PC and pricing for the 12-inch model could be as low as $400, Chen says. They will be announced in tandem with the new Aspire PCs, he says.
Truly Tiny
Finally, a couple of tiny components designed for mobile devices and very small computers made their first appearance at Computex.
Nvidia took advantage of Computex to unveil its first graphics chip designed for handheld devices and cellular phones. Approximately the same size as a fingernail, the GoForce 2150 includes a 64-bit 2-D graphics controller and supports over 70 different display interfaces, including TFT, LCD, and OLED screens with a resolution of up to 320 pixels by 480 pixels, Nvidia says in a statement. Volume production of the chip will begin during the fourth quarter.
Also making its first appearance this week, Via's Nano-BGA C3 processor is set to begin volume production during the fourth quarter, according to Wen-Chi Chen, the company's chief executive officer. Measuring .6 inches by .6 inches, the 1GHz Nano-BGA C3 will be the smallest PC processor when it begins shipping at the end of this year. Pricing was not disclosed.
Via has paired the Nano-BGA C3 with a new motherboard form factor, the Nano-ITX, which measures 4.7 inches by 4.7 inches and is significantly smaller than the smallest current form factor, the 6.7-inch-by-6.7-inch Micro-ITX form factor. The first Nano-ITX motherboards, which are designed for very small computers, will be available from Via at the end of the year, Chen says.