Page 7 of 8
64-Bit Computing According to Apple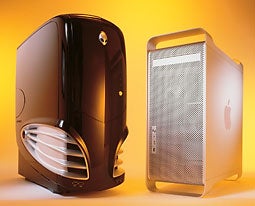 Apple touts its new 64-bit Power Mac G5 as the world's fastest personal computer, but our initial tests indicate bragging rights may belong to PCs using AMD's Athlon 64 FX-51 chip.
Even Apple's 2-GHz dual-CPU G5 unit had a hard time keeping up with a single-chip FX-51 PC in most tests. (Tests were not exhaustive, however: Working with our sibling publication, Macworld, we selected four applications available on both platforms and then ran seven hand-timed tests. Our test suite, PC WorldBench 4, cannot run on Macs.) The new Macs aren't great values either, as the top-of-the-line G5 ($3549 as configured) costs about $200 more than the similarly configured Alienware Aurora. (Prices do not include a monitor or speakers.)
The dual-G5 sparkled in one main area: our Photoshop test, which it completed in 18 seconds, or about 17 percent faster than the Aurora's 21 seconds. The 1.8-GHz single-chip G5 ($2999) trailed at 27 seconds.
Elsewhere, the Alienware earned top marks, performing particularly well in the Premiere QuickTime test. (See chart for more detail.)
OS Ready Today
Like 64-bit Athlons, G5 CPUs (developed by Apple and IBM) can run 32-bit and 64-bit applications. However, while Athlon owners must await shipment of Microsoft's 64-bit Windows XP (or choose a 64-bit Linux OS) to use the chip's 64-bit capabilities, Mac G5 owners have a 64-bit-capable desktop out of the box.
That's because Mac G5s come with a modified version of the OS X operating system, code-named Jaguar, which works with apps that can make 64-bit requests. Later this year Apple will launch another OS revision, code-named Panther, with even more 64-bit enhancements; neither is a fully 64-bit OS.
Yet G5 owners still face one of the same hurdles as Athlon 64 buyers do: scarce 64-bit software. The most notable app available--and the most relevant to many Mac users--is Photoshop 7.0.1, which has a 64-bit plug-in that lets it make better use of G5s. But despite Apple's OS advantage, it will probably take a year or more for a sizeable number of 64-bit apps to ship for both G5 and Athlon 64, says Kevin Krewell, general manager at research firm MDR. Expect media creation apps first, he says, because that's Apple's core market, and those developers will like the larger address space.
Tom Mainelli