Page 2 of 8
Display's the Thing
As monitor and graphics technologies continue to improve, you'll see increasingly realistic 3D images on flatter and brighter displays. The LCD is here to stay, folks. According to IDC, flat-panel display shipments will surpass those of tubes for the first time in 2004.
For PCs, the 17-inch LCD will be the sweet spot over the next few years, as prices drop below $300. But don't expect prices to sink much lower, or screens to get much bigger, warns Jon Peddie of Peddie Research. "LCD manufacturers make their lowest margins on desktop monitors," he says, "and the cost of making them will keep the bottom price around $250."
While there's still some room for innovation, most of the improvements will be internal, notes Peddie. For example, screens will run cooler and consume less power. The real action will be in home entertainment, as large-screen LCDs drop in price to compete with plasma and projection technologies.
Get the OLED Out
Potential rivals to the LCD's dominance may come from screens using Organic Light-Emitting Diodes (OLED, pronounced "oh-led"), which employ naturally luminous materials that are brighter and more energy-efficient than LCDs.
"OLED is the one flat-panel competitor that looks like it might challenge LCDs over a range of applications," says Ken Werner, editor of Information Display magazine.
Active-matrix OLED displays require complex internal electronics, making them more costly to build. But last May, Samsung SDI and Universal Display unveiled a prototype OLED using existing LCD manufacturing technology that may pave the way for mass production.
"It's very exciting," says Werner. "Down the line, we may be able to make an OLED comparable in price to an LCD."
While OLEDs have already begun to show up on cell phones and digital cameras, Werner believes the first OLED screens for notebooks won't emerge for at least two years.
Graphic Jams
When it comes to PC graphics, you'll see two divergent trends, say experts. As integrated graphics chips continue to replace graphics cards in a lot of low-end PCs, many users will experience "good-enough graphics," says Peddie, "which is fine for the majority of people, who use [mainly] Office apps."
Today about 55 percent of desktops use integrated graphics chips, says Peddie, a number unlikely to change in the near future. Most are made by Intel, which now ships more graphics processors than any other company.
"Over time we'll see integrated solutions incorporate more advanced features," says Dean McCarron, principal analyst for Mercury Research in Cave Creek, Arizona, "but they will always be lagging one or two generations behind stand-alone cards." For gamers and graphics professionals, however, a new generation of graphics processing units will take them into the stratosphere. The latest generation of GPUs will really shine in upcoming games such as Half-Life 2 and Doom 3 that take advantage of pixel- and vertex-shader programs to speed up rendering and create much more natural-looking 3D images.
But even today's fastest GPUs aren't enough. "Right now developers can write complex shaders that could bring your graphics hardware to its knees," says McCarron. "They're holding back the quality of the rendering so the apps are still usable."
In the next five years, you'll see much more complex and flexible GPUs running 16, 32, or 64 parallel graphics pipelines.
"Game developers will be able to get exactly what they want rendered on screen," McCarron adds. "That means a higher degree of realism, with a lot more experimentation and cool effects."
Page Turners
Looking further out, the world of graphics and displays begins to resemble the world of science fiction. Last spring E Ink demonstrated "electronic paper" (made on a thin, flexible steel foil) using capsules of black and white pigment that react to electrical charges. Apply a negative current to the capsule, and white particles rise to the surface; add a positive charge, and black particles form words and images.
The sheet, about the size of a PDA display, can be rolled into a 1-inch cylinder, and it sports a 96-pixel-per-inch resolution comparable to that of most handhelds. The first electronic books using such technology should be available by mid-2004, says Darren Bischoff, E Ink senior marketing manager.
LCDs With Eye-Popping Color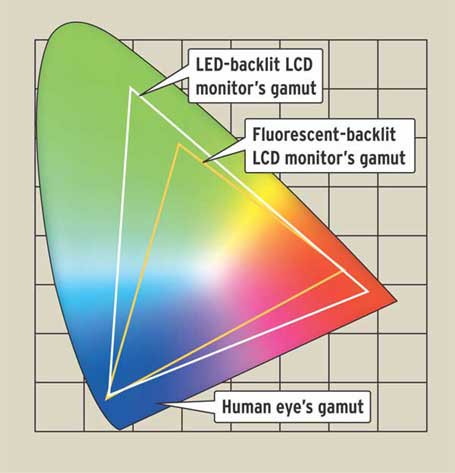 Today's best LCDs produce a depth of color about equal to that displayed by a CRT monitor. In 2004 you may see LCD monitors and TVs capable of achieving about a 45 percent wider color range, called a gamut. The result could be a boon for everyone from designers and photographers who demand precision in their work to home viewers who want to see cinematic color on their LCD TVs.
The trick is in replacing fluorescent backlights with light-emitting diodes. Proponents say that mixing the output from red, green, and blue LEDs produces a truer white backlight, which enables a wider color gamut.
NEC-Mitsubishi plans to launch a desktop monitor with LED backlighting in the second half of 2004. And Lumileds, one of the main suppliers of LEDs for backlights, says that you may see enhanced PC monitors from at least one other company and TVs from up to two manufacturers, by the end of 2004.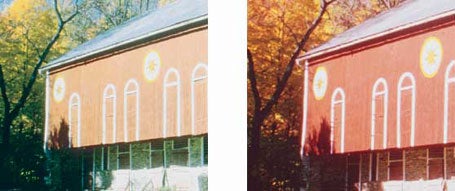 The same monitor produces deeper colors with an LED backlight (at right) than with a fluorescent backlight. However, proper calibration will be needed to ensure that the colors are not only more dramatic, but also more accurate.
Seán Captain