Page 8 of 8
Update: Whatever Happened To...?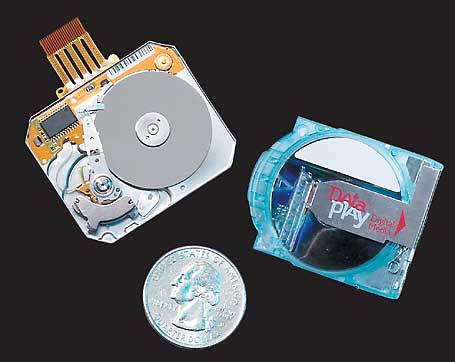 Promising technologies are like showbiz stars. Some make a splash and disappear. Others fade away for a bit, then recapture the limelight.
DataPlay was a one-hit wonder. The half-dollar-size optical discs--able to hold up to 500MB--looked like the perfect media for MP3 players in 2001. But after the IPod arrived, the future of portable music belonged to mini hard drives. When IRiver launched the first DataPlay-equipped player in mid-2002, scarcely anyone noticed. But now IRiver is one of several companies selling players using the Cornice Storage Element, a 1.5GB hard drive about the size of DataPlay's disc. And now some former DataPlay employees are working at Cornice.
Micro fuel cells may finally allow mobile electronics to achieve nirvana. By extracting electricity from a refillable liquid, likely alcohol, a fuel cell could produce up to 20 times as much power as a battery of the same size. Micro fuel cells still face hurdles, including regulatory approval. (Will the FAA allow flammable liquids in carry-on bags?) But with over a dozen companies, including PC makers, pursuing the technology, you may see some notebook fuel cells by 2005.
Seán Captain