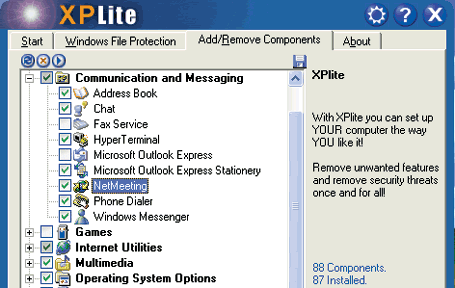 Do you know even half the tools included in Windows, or how they affect your PC's performance? LitePC Technologies' $40 XPLite can remove unwanted Windows 2000 or XP features. But so might you, without XPLite's help.
XPLite lists optional Windows features, each with a description and a check box so that you can see what it does and remove it if you wish.
The concept closely resembles that of Windows' own Component Wizard. But XPLite lets you easily remove items--for example, games, DirectX, and the Migration Wizard--that are tricky or impossible to uninstall using Windows' own tools. In other cases, XPLite does a better job. For instance, the Components Wizard doesn't remove Outlook Express; it just deletes the shortcut. But pull Outlook Express with XPLite, and Outlook Express is really gone.
In theory, removing parts of the OS you don't want should yield a faster, more dependable, more secure environment. My casual hand-timed tests with an XPLite shipping copy did show modest to impressive speed improvements, depending on the task.
But XPLite failed to make either of my test PCs more dependable. Time and again I would remove items, reboot Windows, and find something else broken. More than once I got caught in an endless loop with a repeating error message. And removing Outlook Express cripples Outlook. Fortunately, every change you make in XPLite is easily fixable: Simply recheck one or more of the items that you unchecked before. As an extra precaution, XPLite creates a System Restore checkpoint before altering anything.
XPLite will probably give you a sleeker Windows. But XP and 2000's own tool can do much the same for $40 less.
XPLite LitePC Technologies
Feature-removal utility improves slightly on Windows' own tool.
List: $40 for single-user license
Current prices (if available)
Shop Tech Products at Amazon