IBM L150p
IBM 15in LCD 1024x768 L150P THINKVISION Monitor (IBM-6636HB1)

$200.00

Amazon Shop buttons are programmatically attached to all reviews, regardless of products' final review scores. Our parent company, IDG, receives advertisement revenue for shopping activity generated by the links. Because the buttons are attached programmatically, they should not be interpreted as editorial endorsements.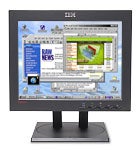 The L150p is a sharp monitor in all respects. It has a dark, charcoal-gray finish and a sophisticated appearance. The screen tilts, and it slides up and down with ease on a smooth track. It also swivels easily on a large turntable set into the sturdy square base. A clip brings some order to monitor cables, which may include analog or digital video connections (only an analog cable is bundled). In keeping with its business image, the L150p did especially well on our text-quality tests, earning a word score of Outstanding at the time of our review for showing very legible text in several applications. It was solid on graphics, too, with a score of Very good. And it offers some options for refining images. Unlike its 17-inch sibling, the L170P, the L150P allows you to manually adjust red, green, and blue primary color levels while in digital mode. The one drawback was price: Costing $380 at the time of our review, the L150P was more expensive than equally capable monitors, such as the HP L1530 that we reviewed at the same time and that carried a price of $330. However, the IBM is a bit more stylish.
The IBM L150P has a solid design and solid performance. It's a bit pricier than some worthy competitors, but you do get high style as a bonus.
Sean Captain