Time to Switch to a Net Phone?
Talk is cheap--cheaper in some cases than with land-line or cell phone plans--if you opt for one of the many Internet phone services. Voice-over-IP services offer better quality, wider choices, and more-competitive prices than ever before. And now big players, including AT&T, are getting into the home market.
Our tests found VoIP call quality as good as a trustworthy phone line, thanks to new technology. But you may lose such benefits of a regular phone as quick access to 911. And for VoIP to be practical, you will need a broadband connection. (AT&T's recently announced home service was not available for us to test.)
Varied Methods
You'll find different flavors of IP phones for home and small-business use. With software-based services like the ones Net2Phone and WebPhone offer, you talk into a microphone. Hardware-based options like Vonage's Phone Adapter and 8x8's Packet8 let you plug an adapter directly into your cable/DSL modem and then into your existing telephone handset. Or you can plug a gizmo into your PC's USB port and join a calling club, in which calls are free worldwide among customers.
In our limited tests, call quality was generally impressive, and the recipients of our calls couldn't tell that we were yakking over the Internet. Still, software-based VoIP occasionally made us sound as though we were talking on a juice-deprived cell phone.
No PC Needed
Based on our testing, the most convenient type of IP phone is the hardware adapter setup that companies like Vonage and 8x8 offer. You don't even have to boot your PC; simply reach out and touch the keys on a regular telephone.
Dr. Vijay K. Bhagavath, a Forrester Research telecom analyst, agrees that the hardware option is more robust. But he says he would like to see Internet phone companies take greater advantage of the Internet connection.
"These companies need to add unique features that are fully integrated with the Internet," Bhagavath says. He suggests offering online presence features, and enabling users to initiate calls by clicking an e-mail address.
That said, the adapter option appears to be the most viable replacement if you're contemplating deep-sixing your Baby Bell, or if you've gone cellular-only but regret having lost a fixed line. Hardware-based services handle data switching inside the box, and are less susceptible to choppiness and dropped calls. Since software-only services rely on the Internet to dispatch the voice packets, they work best as a secondary alternative. Oh, and you might have to futz with your microphone or your PC headset. That part still isn't as simple as picking up the phone.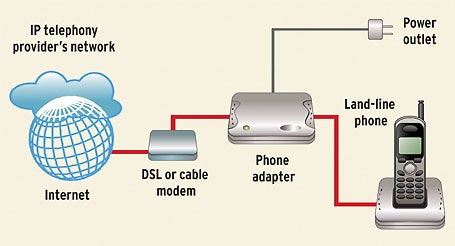 How a Typical Internet Phone Works
The adapter's circuits convert your voice (analog signal) into digital voice packets and route these packets over the Internet on the IP telephony provider's private network. Packets must pass through another gateway if destined for a standard phone.