CES 2004: Picks and Pans
LAS VEGAS -- The worlds of computing and entertainment continue to collide at this year's Consumer Electronics Show. Televisions are getting larger and thinner than ever, DVD players are becoming more connected (next stop, world domination?), and PC technology is moving past the living room, into the kitchen and even the car (for the record, we're not sure if that's a good thing).
Here's a look at some of the highlights--and lowlights--of this year's show.

Pass the popcorn: Optoma's H30 DLP Projector is the buzz of the South Hall, home to the coolest home theater products. The reason: The H30 is a Digital Light Processing projector specifically for home use that produces terrific images in demos. Even better, it costs $1395, an extremely low launch price for a dedicated home theater projector with Texas Instruments' DLP technology and a six-segment 4X color wheel. Arch-rival InFocus says it will introduce the ScreenPlay 4805 in March with similar specs and pricing. --Ramon G. McLeod

Now, that's entertainment: You'll get Digeo's Moxi Media Center through your cable company, but it's much more than a cable box. The device records shows on an 80GB hard drive, and it has a dual tuner so you can watch one show and record another. Some versions have a CD drive to let you rip music to a hard drive, or an extension so you can watch recorded shows on a second television. And some versions act as a cable modem and firewall for an Internet connection. Your cable company decides which version you get, but for a likely rental price of $10 monthly, the Moxi appears a pretty good deal. --Ed Albro
Where's the snooze button? Everybody from Microsoft to Sharp is demonstrating devices to stream music from a PC to a stereo using home networking. The most striking designs--from Roku--feature rounded white cases and big LED displays. A $249 version looks rather like a clock radio, and its $499 big brother resembles a really big clock radio. --Harry McCracken
Who needs a PC? Toshiba's Advanced Digital Media Server is still in testing, but it's pointing the way to the future. This DVD recorder is also a wireless router that can move audio, video, and data on a home net. Expect DVD recorders to emerge as the true digital hub in the living room, mainly because they are true CE devices that belong there. PCs will be another hub on the home net. Toshiba's move looks strong, but check back in a year. --Ramon G. McLeod
Hey, big spender: If you've got money to burn and want a high-end digital projector for your home theater, DWIN's three-chip DLP projector may be for you. The TransVision 10 is similar to commercial digital projectors because it offers three separate chips for red, green, and blue (consumer models usually have one chip for the three colors). Here's the catch: The projector costs $22,950, with optional lenses priced at $2500 to $3500. --Alexandra Krasne
Is there a support group for that? "Hi, my name is Tom, and I'm addicted to TiVo." With my obvious bias out of the way, I can now say some of the upcoming TiVo features for its existing Home Media Option networking package are pretty darn cool. Chiefly: TiVo to Go. Running Sonic on your PC and a special USB key from TiVo (to placate the digital-rights folks), you can move recordings from your digital video recorder to your PC to view, or to burn to DVD to watch elsewhere. Now you can take your backlog of Alias episodes on the road! --Tom Mainelli
TVs Move (Way) Past the Tube

But will it fit in your living room? After LG touted its 75-inch plasma screen as the biggest on the show floor, Samsung sent for a prototype 80-inch model to show. The good news: It will display 1920 by 1080 lines of video. The bad news: you'll have to wait at least a year to buy one. --Andrew Eisner

TV to go: Sony, Sharp, and Samsung are all showing wireless televisions. These battery-powered, flat-panel models communicate wirelessly with base stations. Plug your cable TV input and DVD player into the base station, and you can tote the display into another room or even the patio--watching a movie or TV show all the while. --Harry McCracken
This is must-see TV: A 7-inch-deep projection TV? Count on it. InFocus's ScreenPlay 61-inch DLP projection TV is half the depth of the slimmest projection TVs on the market and lightweight enough to hang on a wall. That puts it in direct competition with plasma and LCD TVs, typically much more expensive than projection TVs. It runs on a Texas Instruments Mustang HD2+ DLP chip, weighs about 130 pounds and is expected to cost about $10,000 when it ships through specialty consumer channels in the second half of 2004. --Ramon G. McLeod

Mood lighting: Yeah, it's a little gimmicky, but Philips Ambilight technology, available in the new Matchline series of LCD FlatTVs and its 50-inch plasma FlatTV models, is stylishly irresistible. There's just something about a nice subdued halo of light on the wall behind the TV that makes watching television sort of sensual. Eye candy like this doesn't come cheap--the TVs start at $6000--but it's truly fine industrial design. --Ramon G. McLeod
A new low (price): At the Texas Instruments DLP booth, a prototype Mitsubishi projector displays 480p (progressive scan) video on an 80-inch screen. The colors are true and the images sharp. Expect to see a few such displays from several vendors within a few months. Priced as low as $1500, they offer a reasonably priced home theater solution. --Andrew Eisner
Music, Movies, and More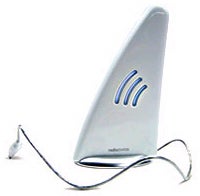 Is it safe to go back in the water? Griffin Technology's RadioShark takes TiVo to radio. This $70 device, also at Macworld Expo this week, connects via USB, tunes into AM and FM radio stations, and lets you schedule broadcasts for recording from an online program guide. --Alan Stafford

Looking good: Hard-drive-based MP3 players aren't new, but digital music aficionados have ever-better options. Creative, Rio, and Apple are showing 4GB digital audio players, available for about $249 each. These nifty devices weigh less than 4 ounces (2 ounces, for the Rio) and pack hundreds of hours of music. Despite Apple's fashion colors, my personal fave is the Rio Nitrus 4GB, which has a slick, wedge shape that tapers, fitting nicely into a pocket. --Anush Yegyazarian
This just in: Aiwa's HZ-WS2000 is the thinnest MP3 player I've seen. It's a 2GB player with a separate LCD control module, and supports USB 2.0. --Grace Aquino
Real relief? Media player purveyor Real celebrated its tenth anniversary by announcing RealPlayer 10. The company, long criticized for in-your-face marketing practices like pop-up ads you can't disable, says its new version is a "kinder, gentler" RealPlayer that won't annoy those who install it. --Harry McCracken
Bye-bye, Blockbuster? Disney MovieBeam is just starting to roll out to metropolitan areas, but if it succeeds, you can kiss your video store goodbye. No running out for a movie at the last minute, no late fees, and unlike most cable pay-per-view, you can start and stop the movie at your convenience. --Tracey Capen
Unleash Your Inner Spielberg

High-tech home movies: Hewlett-Packard had a big winner last year with its Dc3000 VHS-tape-to-DVD burner. HP hopes to keep that success going with its DVD Moviewriter Dc4000, which burns at 8X and uses either DVD+R or DVD-R media (or DVD+RW and DVD-RW at 4X). It will cost $299 when it ships this spring. --Ramon G. McLeod
Next stop, Hollywood: MCE Technologies makes QuickStream DV, an external FireWire hard drive that connects to Mini-DV camcorders. This device lets you bypass tape, recording directly to the hard drive, so to edit you skip the time-consuming capture process. Prices range from $599 to $999, for capacities from 20GB to 80GB. --Alan Stafford

High-tech tattoos: HP's LightScribe technology uses radial writing to label discs. It combines your PC's CD or DVD drive with specially coated discs and disc-burning software to produce silkscreen-like labels--it's like getting a tattoo. HP says burn time is 2 to 22 minutes, depending on the complexity of the graphic being inscribed on the disc. --Grace Aquino
High-tech home movies, take two: Yes Video, which offers a VHS-tape-to-DVD conversion service through retailers such as Best Buy, is turning the service into software being built into new DVD recorders. Connect a VCR or camcorder to the recorder, stick in a blank DVD, and the Yes DVD software will analyze the video, create menus and chapter breaks, and even add bonus features like highlighting scenes set to music. The company says Apex will ship the first Yes DVD-capable recorder in April. --Harry McCracken