The Changing Face of the PC
LAS VEGAS -- The standard tower PC is so twentieth century. A handful of hardware vendors are touting systems that not only have unique shapes and styles, but also function in interesting ways. Several gave a preview at the recent Consumer Electronics Show here.
Sleek or Silent?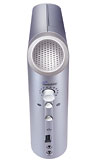 One system, the $899 V5 from Nimble Microsystems, is a slim, silver-hued PC about the size of a hardback book. The V5's distinguishing features are its built-in speaker, located at the top of the sloped case, and microphone on its front.
When used with the Web cam that ships with the system, the V5 enables users to conduct videoconferences. The V5 runs Via's 733-MHz C3 Eden CPU, has 256MB of RAM, and comes with Microsoft Windows XP Home Edition. It also has a 30GB hard drive, a PC Card slot, and four USB 2.0 ports.
Another unique PC, the ATX from Hush Technologies, lives up to its manufacturer's name--it runs silently, thanks to a unique fanless case. Hush has developed a quiet system by dissipating heat from the CPU to the sides of the case, which are defined by substantial grilles. The result, according to Hush representatives, is a PC that not only runs efficiently, but also runs inaudibly.
The ATX, a slim, box-like system, will be available in either silver or black. It runs Windows XP and can be configured with an Intel Pentium 4 or Celeron, or Advanced Micro Devices' Athlon XP or Duron CPU. It also comes with 256MB of RAM, uses ATI Radeon 9200 graphics with 128MB of RAM, and has a 120GB hard drive. It has four USB 2.0 ports and two FireWire ports. Pricing varies with configuration, but a Hush spokesperson estimates pricing will begin at roughly $1600.
Tiny and Packed Entries
On the other end of the size scale from the ATX is the Modular Computing Core from Antelope Technologies. This petite, copper-colored, paperback-sized PC runs on Transmeta's 1-GHz Crusoe processor, has a 20GB hard drive, and runs Windows XP. Instead of being a stand-alone PC, however, it is a unit that plugs into two separate devices. One option is a mobile "shell," a rugged component that has a built-in 6.3-inch screen, as well as a battery, allowing you to use the system unplugged. The other choice is a desktop docking station that has a VGA-out port, which lets you to hook it up to a standard monitor.
According to Antelope, this unique capability to remove the core unit, which has the main processing power and storage, gives you extra versatility when you're working on the go. Evaluation kits are now available, and Antelope representatives say the core and a docking station unit will likely cost in the $2000 range.
Of another type entirely is Pelham Sloane's PS1500, an all-in-one PC that builds all the components, including the motherboard, hard drive, and optical drive, onto the back of the 15-inch LCD monitor. The end result is a fairly slim, roughly 13.5-lb system that can be attached to a desktop stand, or mounted to a wall.
The high-end configuration of the PS1500 includes a 2.4-GHz Pentium 4 CPU, a 60GB hard drive, 512MB of RAM, a DVD-ROM/CD-RW combo drive, built-in 802.11b or 802.11g and Bluetooth, and a touchscreen. According to Pelham Sloane, that configuration, which would also run Windows XP, would cost roughly $1900. Full pricing information will be available when the PC starts shipping in the U.S. in early February.
See PC World's ongoing CES coverage.