The W-2 forms have arrived, the 1099 forms aren't far behind, and it's time to choose your best line of defense against the IRS.
Three companies lead the pack for desktop tax software. By my ranking, they are TurboTax from Intuit; TaxCut, marketed by H&R Block; and TaxAct, sold by 2nd Story Software.
You can find Web-based versions of these three programs, as well as of CCH's CompleteTax and Petz Enterprises' TaxBrain. Those online options are reviewed separately.
The shrink-wrapped programs are very different, and each is available in several versions. TaxAct is the budget deal, offering a free download ($6 for a CD). TurboTax starts at $30 for the Basic package; most comments here are about the Premier version, however. TaxCut's pricing starts at $15 for its Standard version, though my evaluation covers the Premier version. Various rebates reduce some of the prices. On the other hand, getting support for state income taxes costs extra in some cases.
Decisions, Decisions
Generally, the higher-priced packages include a greater level of help and provide a more in-depth interview to help populate your tax forms. But their areas of focus vary--and that's a plus, because everyone's tax situation is different. Also noteworthy: Each program I tested imported its own data from the previous year's return without a hitch.
Otherwise, determining which (if any) package is right for you means comparing your tax return with the features and deficiencies of each program. Here are the highlights:
If your return is little more than form 1040EZ or 1040, you can't beat TaxAct's offer: the download is free, and you can e-file for $8. But the interface design forces you to look at many more screens than are necessary.
If you're return is very complicated, TurboTax is for you. Its interview is the most detailed--in fact, it's overkill for taxpayers with simple returns. TurboTax Premier ($60) includes an outstanding treatment of asset sales, especially stock transactions.
How do you know whether your return is complicated? Consider these factors:
Mileage deductions, particularly in multiple categories, such as medical, charitable, and business (your own or one where you are an employee).
Depreciation expense, which you can claim on Schedule C or Form 2106 or both. Depreciation is more complicated if it involves continuing to expense items purchased earlier.
Noncash charitable contributions exceeding $500, or a large contribution to a single group.
Anything that might trigger the Alternative Minimum Tax (AMT).
Asset sales or complications resulting from the ever-changing treatment of stock sales and dividends. (For example, selling shares that you purchased at several different times).
I tested the shrink-wrapped packages on two different PCs, each running Windows XP with SP1 and all current security patches installed. One system was a 2.41-GHz Intel Pentium 4-powered Sony VAIO desktop with 512MB of RAM and 60GB of disk space. The other was a 2-GHz Celeron Dell notebook with 256MB of RAM and a 20GB hard drive.
The test data came from my 2002 federal tax return. My household had significant medical expenses, as well as mortgage interest, real estate, and personal property taxes, plus employee expenses. I also routinely file a Schedule C for my consulting business. My firm makes charitable contributions both in cash and donations. The primary IRS forms--Form 2106, and Schedules A, C, and D--are reviewed at the end.
Bugs and Features to Watch
Tax data is complicated and messy, so it's no surprise that sometimes things go wrong. For example, if you try to install TurboTax on a PC with no C: drive, you'll get this error message: "Error creating necessary version files." You can download the patch on the TurboTax site.
Another TurboTax bug involves the update process. Each of the three desktop software packages urges you to download and install the latest updates before you begin. TurboTax requires that you be logged on to your PC with administrator privileges before you can download. If you object to being online while logged on as administrator, try one of the other two packages.
TaxCut had problems importing a return prepared under TurboTax. The return contained over 80 depreciable assets from previous years, most of them fully depreciated and therefore irrelevant. Still, TaxCut's error check reported over 600 errors, most of them related to these assets. I had to answer that each asset hadn't been sold that year and to note the asset class, and then TaxCut wanted the depreciation lifetime--even though the software completed this automatically, based on the asset class.
Here's the crux: If you successfully used a tax program last year, stick with it this year. The sole exception is when your tax situation becomes considerably more complex (or more rarely, when your taxes get simpler).
Add-Ons of Note
Both H&R Block and TurboTax market separate programs to help you value noncash donations to charity. H&R Block's DeductionPro costs $20 but is included as a free download with TaxCut Premium. TurboTax's ItsDeductible also costs $20 and values items based on EBay data. Both guarantee to find at least $300 in additional deductions or the vendor will refund the purchase price.
If you made numerous noncash donations to charity during 2003, either of these add-ons will be worthwhile. You should use the deduction finder companion to the tax program you choose, because you're virtually assured of compatibility.
Microsoft also offers tax advice and other information through MSN. The site provides IRS forms and many links to other tax resources, primarily H&R Block.
All of the programs pitch additional products. TurboTax and TaxCut do most of their sales work during installation (though offers for other software and partner sites are scattered throughout the program). TaxAct is the ad champ. If you choose View/Calculator from its menu, the program tries to sell you its calculator software for $10. Decline, and you'll get the free Windows calculator instead!
Program Features: Good, Bad, Ugly
Overall, tax packages could use some advice from an efficiency expert. For example, like its online version, TaxAct uses too little screen space. It will ask only a single question on an entire screen.
Even TurboTax sometimes falls into this trap. For example, requesting medical expense deductions for Schedule A, TurboTax asks about each item on a separate screen.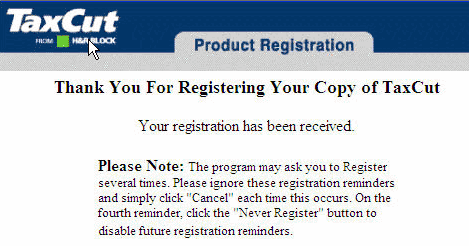 Meanwhile, TaxCut greets you with a strange notice, warning that the software may repeatedly ask you to register even after you have. Is this a bug or a feature?
Some areas of specialization are rather narrowly defined. If you've used CCH's GainsKeeper to track stock purchases and sales during the year, you can transfer the data directly into your TaxCut return, automating Schedule D. TaxCut also can import last year's return prepared by either itself or TurboTax. Both TurboTax and TaxAct import data from their previous year's file. TurboTax and TaxCut also import data from Intuit Quicken or Microsoft Money.
TaxAct has some nice touches. A calendar pops up to help you figure out dates, though you shouldn't need a calendar to fill in a birth date.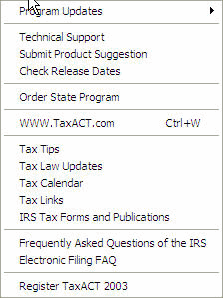 The TaxAct menu offers a good list of options. I appreciated being invited to submit product suggestions and to look at tax law updates.
TurboTax distinguished itself by being the only package to note that I could offset part of my investment expenses (and thus lower my taxes) by declaring all or part of my capital gains as investment income.

TaxAct was on the same track, but its explanation was muddled. The program correctly noted that I could convert capital gains into investment income. But the note at the bottom of the screen says, "Making an election to include in investment income will reduce the amount of net capital gain eligible for the lower capital gains tax rates." As Maxwell Smart used to say, "Missed it by that much!"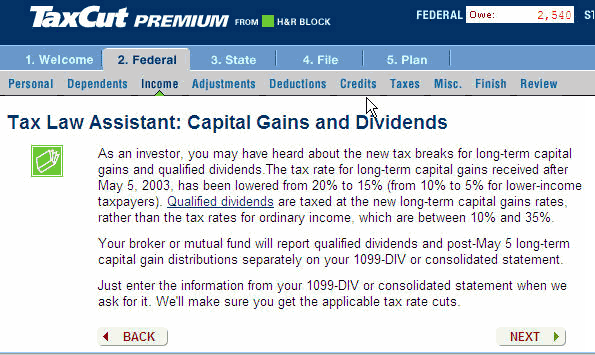 TaxCut's main strengths are its explanations of changes in the tax law. It provides good and timely information about confusing changes in the way capital gains and dividends are handled.
TaxCut is also good about reducing the number of blank fields you have to deal with. For example, my Schedule C often contains a number of expenses that are zero. TaxCut handles this by displaying a list of expense items and asking you to check those for which you will enter information. Then the input screen displays only those lines. Unfortunately, it still deals with only one expense item per screen, which seems inefficient.
TaxCut offers some unique data-entry features. Its data-entry fields include a small "insert" mark. Clicking on it brings up a dialog box where you can enter more details. If you like, you can check the box to designate the entry as tentative. TaxCut later reminds you to complete or change the data.
Ease of Use
All three programs have good navigation tools.
Each one lets you easily skip around throughout the interview. You can move to any major segment of a return in progress simply by clicking a tab at the top of the interview window.
TurboTax shows you your return as an outline. Checkmarked items are considered finished. TaxCut uses the same navigation format, but is missing some items. For example, I could not move to individual Schedule C expense items.
TaxAct keeps the J.K. Lasser tax guide open at the bottom of the screen. The guide automatically moves to the pages relevant to what you're working on. This is quite handy if you have numerous questions; if not, you can choose to close the tax guide.
Customer Support
H&R Block and 2nd Story Software offer asynchronous customer support when you complete a form on their Web sites. H&R Block sends an e-mail message when it posts a reply to your TaxCut question. 2nd Story Software goes one better, answering your TaxAct question by e-mail and including the question in case you've forgotten what you asked.
H&R Block provides online support as part of TaxCut Premium, which costs $40. Intuit supplies only telephone or live chat support (for a maximum of 20 minutes) for $20 per session. Save your TurboTax questions and ask them all at once to save a few bucks.
I posed the same tax question to each customer support group. Support for TurboTax and TaxAct gave the right answer. Intuit's adviser checked and cited the IRS regulations. 2nd Story Software did even better, summarizing the answer and pointing to and quoting the relevant IRS regulations.
H&R Block promises to answer TaxCut online support questions in 10 minutes or less. Unfortunately, on the Monday morning when I tested the service, it took me about 1.5 hours to get an answer that was basically wrong.