At a Glance
Microsoft VIRTUAL PC 2004 (Full) (Microsoft-T3100007)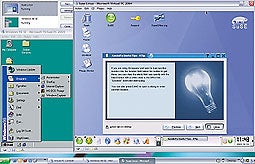 If you frequently boot your PC into different versions of Windows to enable software compatibility or to support other computer users, Microsoft's $129 Virtual PC 2004 can simplify your life. The program allows you to install and run Windows 95/98/Me, Windows NT/2000/XP, MS-DOS, or even IBM's late, lamented OS/2 Warp from within your PC's current operating system without repartitioning drives or rebooting.
But stock up first on RAM and disk space. Running a virtual copy of Windows 2000 using a Windows XP Professional host system requires a minimum of 224MB of RAM and 4GB of disk space. Running memory-intensive apps in either OS will require more (I'd recommend 512MB).
Virtual PC might also be a handy way to try out Linux on your PC. Looking to quash such competition, though, Microsoft dropped official support for the alternative OS from the application after purchasing it from Connectix last year. However, I did install and run a copy of SuSE Linux 8.2 using the utility.
Which brings up another Virtual PC 2004 limitation: Microsoft supports only Windows 2000, XP Professional, or Tablet Edition as a host OS. I was able to install Virtual PC 2004 on a machine with XP Home Edition, but don't expect Microsoft to help if you try it and things go wrong.
Despite these drawbacks I found Virtual PC 2004 useful and stable. If you need broader OS support, consider VMware's $299 VMware Workstation 4 application.
Virtual PC 2004
Microsoft
Streamlines the use of multiple
operating systems; no official
support for Linux.
Price when reviewed: $129; free upgrade for users of some recent versions
Current prices (if available)
At a Glance
Microsoft VIRTUAL PC 2004 (Full) (Microsoft-T3100007)
Shop Tech Products at Amazon