At a Glance
Generic Company Place Holder 17in LCD .26mm 1280x1024 75Hz BLK Pivot w/Spkrs Security Slot (AOC International-LM729)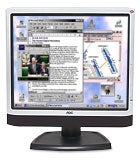 With an eye-catching price of $449 (at the time of our review), the LM729 doesn't cost much more than a 15-inch LCD, but it provides higher resolution (1280 by 1024 pixels) and a lot more screen space. Its smooth adjustments include tilt, swivel, and height extension (up to about 4 inches). The panel pivots between landscape and portrait modes, too, and includes Portrait Displays' Pivot Pro software for flipping the screen image accordingly. Sleekly designed, the LM729's brushed-silver and black bezel is less than an inch wide, with an extra inch and a quarter at the bottom to accommodate a pair of two-watt stereo speakers (the speakers are good for playing basic system sounds, but they won't rock the house).
However, with its analog-input-only interface, the LM729 received a lower rating for overall graphics quality than the other models on our chart. The unit also uses the least expensive display panel technology (called twisted nematic). TN technology restricts the monitor's vendor-rated viewing angle (140 degrees in this case, for both horizontal and vertical), so it can't maintain high contrast and bright colors when viewed from an angle. In our tests, the LM729 failed to display as many of the darker shades in our gray-scale and color pattern tests as most of its competitors. On the other hand, it still offers better text quality than most 19-inch CRTs.
The entry-level AOC LM729 is a fine choice for those who are seeking a bargain-price model for basic computing rather than a display with excellent image quality for graphics-intensive work or for entertainment.
Richard Jantz
At a Glance
Generic Company Place Holder 17in LCD .26mm 1280x1024 75Hz BLK Pivot w/Spkrs Security Slot (AOC International-LM729)
Shop Tech Products at Amazon