capsule review
Sharp LL-T17D3
At a Glance
Generic Company Place Holder 17in LCD 1280x1024 0.264MM 500:1 250NITS DVI-I 50000HRS (Sharp-LLT17D3B)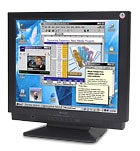 Note: Sharp has discontinued this model and replaced it with the LL-T17D4. However, the LL-T17D3 may still be available at some retailers.
In our jury tests, the LL-T17D3 had high overall performance scores--with especially nice text quality. But it has a fairly narrow vertical viewing angle (specified by the vendor at 135 degrees, while many other monitors boast ratings of 160 degrees or better). We saw this limitation clearly in a marked fall-off of color quality and contrast when we viewed the monitor from above or below. And although the LL-T17D3 boasts a slightly faster response time than many competitors in its class (20 milliseconds versus 25ms), we didn't notice any significant advantage over the other models tested when viewing motion video.
The LL-T17D3 can tilt and swivel (via its turntable-style base), and it has a double-hinged neck that lets you adjust the panel's height, but only by about an inch. But we found the height adjustment mechanism stiffer and clumsier (requiring two hands) than the more flexible mechanisms provided by some models, such as the IBM ThinkVision L170p [link to PID 18342]).
In a nice touch for graphics amateurs, the color mode options presented in the monitor's on-screen menus use nontechnical terms such as "Cool" and "Warm." Also, for matching its screen colors to those of sRGB-compliant peripherals, such as scanners and printers, the LL-T17D3 supports the sRGB color space, or gamut. You can also adjust the individual red, green, and blue color levels when using either a digital or an analog signal input (only an analog cable is included, however). At just one watt each, the anemic integrated speakers sounded tinny, with weak bass notes, but they'll suffice for playing basic Windows system alerts or other application tones.
The LL17D3's fine text quality makes it a good choice for standard computing, but people interested in graphics or entertainment applications should look elsewhere.
Sharp LL-T17D3
17-inch screen; 1280 by1024 native resolution; 14.3 pounds; twisted-nematic panel; one analog and one digital input; tilt, swivel, and height adjustment, TCO'99 compliant. Three-year warranty (including backlight); 24-hour daily toll-free tech support.
$500
800/237-4277
www.sharpsystems.com
Richard Jantz
At a Glance
Generic Company Place Holder 17in LCD 1280x1024 0.264MM 500:1 250NITS DVI-I 50000HRS (Sharp-LLT17D3B)
Shop Tech Products at Amazon