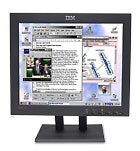 IBM's charcoal-black L170P has a slick yet understated look. The screen tilts, rises 4 inches, and swivels smoothly from side to side. In the tests for our March 2004 roundup, the L170P came in second for graphics quality (behind the Samsung SyncMaster 173P. The display performed especially well in our white screen test for brightness uniformity, in displaying a Web page screen, and in rendering colors in a photograph of a fruit tart. While it placed a bit lower (near the average) for text quality, we still found it perfectly suitable for text-intensive work.
Our main gripe is that, when using a digital input (as opposed to analog), you can control only the brightness level. The monitor does not offer advanced features, such as setting individual red, green, and blue levels, or certain basic features, such as the ability to change the contrast. IBM representatives say that the L170P is optimized to achieve the best performance with a digital input, and it did score very well in our tests. But we've found that manual adjustments can often further improve image quality on the monitors that offer it. Users doing fine graphics work, such as editing photos, may miss having such adjustment options.
The ThinkVision L170P is a sturdy monitor that provides sharp image quality that's good enough for all but the most demanding graphics users.
Sean Captain
At a Glance
Well-built model performed competently; large, curved buttons are comfortable and easy to use, even for large hands. Read the full review
Shop Tech Products at Amazon