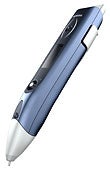 Tired of pushing tiny buttons to key in text messages on your mobile phone? Siemens has developed a prototype phone in the shape of a pen that allows you to enter data directly by writing letters and numbers on virtually any surface.
Phone Features
The prototype PenPhone uses integrated handwriting-recognition technology. It also offers the standard features of a mobile phone that's based on the Global System for Mobile Communications (GSM) technology, according to a company spokesperson.
The pen is aimed largely at heavy users of Short Message Service (SMS), who today face the tedious task of keying in messages manually by pressing a button for each character.
"The PenPhone is able to recognize whatever letters or numbers you write on any surface," the spokesperson says. "It translates the handwritten words or numbers directly into an SMS, which appears on the display."
The device is 5.6 inches long with a diameter of about three-quarters of an inch.
Scheduled for Cebit
Siemens Mobile, the wireless division of the German manufacturer, will demonstrate the device at the Cebit trade show in Hanover, Germany, in March, according to the spokesperson.
Siemens declines to provide further details about the PenPhone ahead of the Cebit show. The spokesperson says only that interested users will be able to test the device for themselves at the annual computer exhibition.
In fact, Siemens has not yet decided whether the pen will go into production, she adds.