Page 8 of 8
Bulk Ink: Feed the Need, Cheaply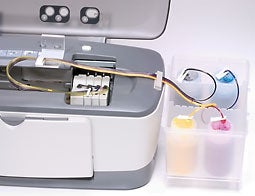 For people who print hundreds of photos a year and need to maintain complete quality control (an online service won't cut it), a continuous-ink system promises significant cost savings. But it requires a hefty initial investment and several adjustments to how you use your printer. And families, take note: These systems are too delicate to be exposed to curious kids or pets.
Think of a CIS as an intravenous drip for your printer: Large bottles sit in a container next to your printer and administer ink continuously via small hoses into special cartridges. I tried the $273 Niagara II Continuous Ink Flow System from MediaStreet with a 4-ounce set of Enhanced Generations inks ($66); NoMore Carts also makes CIS systems that are available at Inkjet Art Solutions or Piezography BW.
Installing the Niagara II on an Epson Stylus C80 took about 45 minutes. Your printer's lid must remain propped up permanently to allow for the line feeds, exposing the printer's guts to kids, pets, dust, and other elements. I had to clean the printhead and nozzle eight times to get the inks flowing properly.
The text and photo samples I printed were only slightly inferior in quality to identical samples printed using Epson DuraBrite inks and media. Archivability comparisons are more difficult. Ink-longevity experts at the Wilhelm Research Institute project that the DuraBrite inks will last up to 92 years when displayed; however, Wilhelm has not tested current Enhanced Generations inks.
But the ink cost savings can be considerable. Once you're buying only 4-ounce refills, you're paying just $4.11 per ounce--and larger bottles (up to 32 ounces) offer greater savings. Epson doesn't say how much ink its cartridges hold, but using volume estimates from a manufacturer of Epson-compatible cartridges, we estimated that the ink in an $11.40 Epson color cartridge costs about $40.64 per ounce, while the ink in a $31.35 black Epson cartridge costs $63.33 per ounce. Epson's prices are no more astronomical than other printer vendors' are, but they're higher than those of MediaStreet and most third-party suppliers.