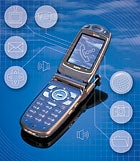 Remember when cell phones were all talk and no action?
These days you can instant-message a group of friends, check your bank account balance, snap a photo and send it to Aunt Julie, catch up on your e-mail, check the weather forecast and news headlines, sync up with the calendar on your computer, download a game, and finally, call in sick to the office--all using one device.
By most accounts, the evolution of mobile phones into voice, data, and Internet devices is just getting started. Motorola, Nokia, and other companies are making their gadgets more versatile, adding features like cameras, voice recorders, and tiny keyboards. Meanwhile, service providers are ramping up wireless network technologies that will allow for bandwidth-hungry tasks like videoconferencing and streaming video.
While research shows that U.S. users still are more interested in making calls than in, say, playing blackjack over the phone or watching a movie trailer, wireless insiders are optimistic about the future. "Carriers are pumping money into development based on the 'build it and they will come' model," explains Avi Greengart, lead wireless analyst at Jupiter Research. "They're banking on [shopper interest and adoption] to take off as the devices improve."
Maybe so, but the first challenge facing users is to make sense of the vast array of providers, plans, and features. So I compared data service plans and tried out features offered by six national carriers: AT&T Wireless, Cingular, Nextel, Sprint PCS, T-Mobile, and Verizon Wireless. (At press time, Cingular announced plans to acquire AT&T Wireless. Cingular said there would be no immediate changes for users, though the deal should mean expanded coverage for each carrier's customers.)
For each carrier, I focused on five categories: messaging (both text and instant through services such as AOL Instant Messenger, MSN Messenger, and Yahoo Messenger); photo sharing; e-mail; file downloads; and Web browsing. I used each service to send both e-mail and text messages, including SMS (short messaging system) and MMS (multimedia messaging system).
MMS messages (which may include photo, video, and/or audio attachments) can't be sent between different carriers. For example, I tried unsuccessfully to send a photo from a Sprint phone to a Cingular phone. In some instances, however, if you transmit a photo via MMS, the picture is replaced with a text message that points the recipient to a Web site, which is best viewed on a PC.
Cingular spokesperson Ken Keatley says the company is negotiating with other carriers to allow intercarrier MMS service and expects agreements by midyear. At this time, no such agreements exist.
For e-mail, carriers typically support AOL, MSN Hotmail, Yahoo, and POP3 accounts. Users are required to configure the e-mail settings on their phone. For an additional fee, you can use Microsoft Outlook and Lotus Notes on Sprint and T-Mobile phones.
All the carriers here, except Nextel, offer camera phones that let you exchange photos with an e-mail account or with a phone that uses the same carrier; I sent photos (and in one case, a short video). I also downloaded fancy ring tones, games, and graphics such as screen savers and wallpaper.
Many of the phones I looked at came with some free content, but you'll have to pay for additional programs, with prices starting at $1 for, say, a game or a ring tone. Business applications, such as personal information managers and currency conversion tools, are costlier, typically as much as $20. Acquiring apps usually is a simple matter of selecting the file you want and downloading it to your phone.
Finally, I checked out each carrier's Web accessibility and its online resources. Unlike a PC browser, cell phone browsers use a formatting standard called WAP (wireless application protocol) that makes Web sites easier to view on small screens. WAP pages strip out most of the graphics and give you just the text.
You can browse through news, sports, weather, entertainment, search engine, shopping, and travel sites, such as ABC News, CNN, ESPN, The Weather Channel, Zagat Online, Google, Amazon, and Fodors. Special-interest sites cover a range of topics from astrology to personal investing. Most carriers also provide tools to help you locate nearby attractions (such as restaurants and movie theaters), get driving directions from services like MapQuest, and check traffic.
Shop Tech Products at Amazon