At a Glance
HP L2035

Generic Company Place Holder 20.1IN LCD UXGA 1600X1200 LCD2080UX+WHITE 400:1 (NEC-LCD2080UX+)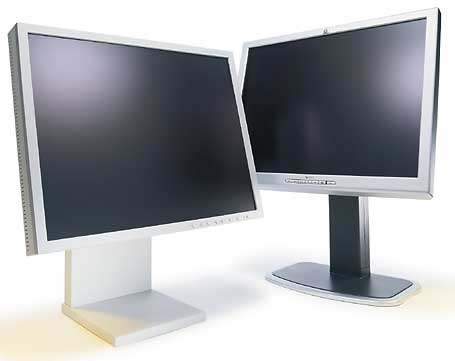 I can remember spending in excess of $1600 to purchase a 20-inch CRT around the time that Windows 95 came out. Today such monitors sell for less than $300. So even though I'm used to falling display prices, it still amazes me that I can now buy a quality 20-inch LCD monitor for under $1000--as is the case with Hewlett-Packard's new L2035. I checked out shipping models of a pair of 20-inchers: the $949 L2035 and the $1499 NEC MultiSync LCD2080UX+, a unit with higher-end features designed for specialized uses.
The displays are similar in many respects. Both provide 1600-by-1200-pixel resolution, bright screens (250 nits), high contrast ratios (400:1), and impressive (16-millisecond) response times for good video performance. Both units have height-adjustable bases, plus slim bezels that you can easily pivot from landscape to portrait orientation by simply grabbing an edge and rotating. Our test suite of images looked great on both displays, as each offered razor-sharp text and graphics with vivid, accurate colors. At factory-default settings, the only noticeable difference was that the HP's white screen looked marginally grayer overall than the NEC MultiSync's.
So what justifies the NEC MultiSync's $550 price premium over the HP?
One of the chief differences: NEC-Mitsubishi software supports unusually long cables. The company says the display can reside up to 326 feet away from the PC that controls it--a useful feature for financial trading floors, retail displays, or other situations where you'd like to save space or locate the PC in a controlled area. In contrast, like most LCDs the HP supports a standard 6-foot monitor cable.
The MultiSync also includes NEC-Mitsubishi's NaviSet software, which enables you to adjust the display settings via mouse and keyboard if you'd prefer not to fiddle with the sometimes confusing buttons on the bezel. An administrator version of the software, available for free on request, allows enterprise IT managers to use these software controls over a local area network; it also offers additional features, including the ability to obtain information such as a unit's serial number and the length of time it's been turned on.
The NEC MultiSync also has an unusually wide viewing angle--176 degrees in any direction--so you can see the image from almost directly above, below, or to either side of the display. HP's monitor has a slightly narrower 170-degree viewing angle. NEC-Mitsubishi also says that the MultiSync's black-level adjustment allows for a degree of image fine-tuning that makes the unit more suitable for the exacting requirements of certain medical uses.
Most general users, however, won't need the specialized features bundled with NEC-Mitsubishi's high-end LCD. And the HP does have some extra features of its own: In addition to DVI-I and VGA support, it has connectors for composite and S-Video (the MultiSync has DVI-I, DVI-D, and VGA connectors). The HP also has a nifty picture-in-picture feature that allows you to preview and toggle between images from two different video sources, such as a PC and a DVD player. Both LCDs have three-year limited warranties on parts and labor, and both offer toll-free, 24-hour, daily phone support for the duration of the warranty.
If you don't really need to view a wider range of spreadsheet cells or multiple open windows simultaneously, you can find any number of quality 17-inch LCDs for under $500 these days. But if you are willing to shell out for the extra screen real estate, HP's L2035 delivers a high-quality image and a solid set of features at a fair price. The NEC MultiSync LCD2080UX+'s hefty price tag makes that monitor worthwhile only for those buyers who need its highly specialized extras.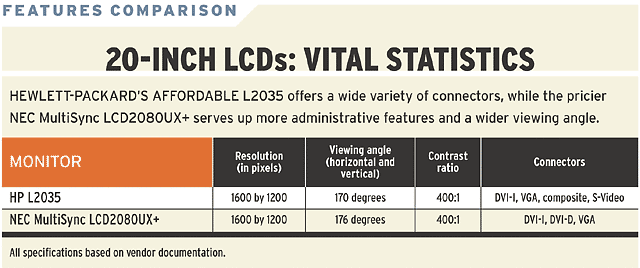 Hewlett-Packard L2035
Handsome, general-purpose 20-inch LCD at a competitive price.
Price when reviewed: $949
Current prices (if available)
NEC-Mitsubishi MultiSync LCD2080UX+
Pricey LCD for specialized uses.
Price when reviewed: $1499
Current prices (if available)
At a Glance
HP L2035

Generic Company Place Holder 20.1IN LCD UXGA 1600X1200 LCD2080UX+WHITE 400:1 (NEC-LCD2080UX+)
Shop Tech Products at Amazon