New QuickBooks, Simply Accounting Ship
At a Glance
Intuit QUICKBOOKS PREM 2004 (Full) (Intuit-279668)

ACCPAC SIMPLY ACCOUNTING 2004 PRO BI-LINGUAL (ACCPAC-10271U180C00)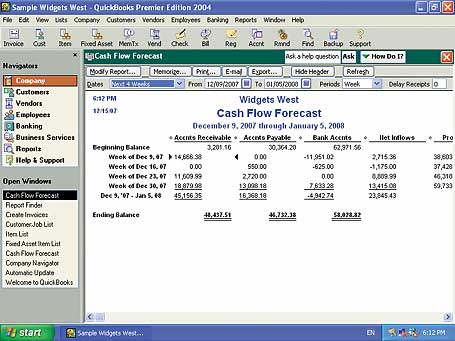 One size doesn't always fit all--and software developers have finally figured out that a generic accounting program doesn't suit all small businesses. Intuit and ACCPAC International have released 2004 versions of their QuickBooks and Simply Accounting packages that incorporate industry-specific features for businesses such as retailers and manufacturers. I looked at shipping copies and found reasons to recommend both.
Intuit's QuickBooks Premier 2004 comes in a handful of new industry-specific versions as well as the generic accounting package. These special mixes of QuickBooks add several useful custom reports, though they are no substitute for pricier vertical applications designed solely for one industry. Nevertheless, Intuit's new take on customization goes beyond the industry-related expert tips and advice ACCPAC includes in the Basic and Pro editions of Simply Accounting 2004.
In addition, the QuickBooks Pro and Premier editions let you fine-tune selling prices to customers, with up to 100 price levels; Simply Accounting's Pro edition goes even further, offering an unlimited number of price lists. The two programs also make it easier to exchange information with Microsoft Excel spreadsheets for additional analysis.
In both Simply Accounting editions, the payroll function now includes an interface to a direct deposit payroll service. You can sign up for this optional, extra-cost service ($79 setup, plus $1.50 per transaction) if you prefer not to print paychecks. The program is also bilingual (Spanish and English) and lets you move between languages.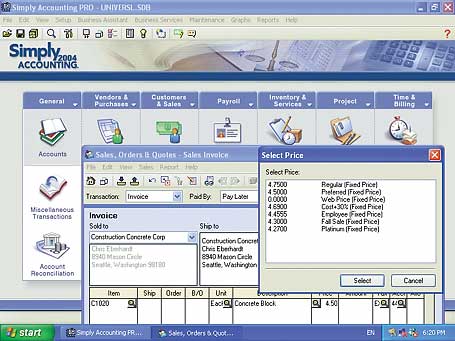 QuickBooks 2004 excels in financial planning tools and delivers a new and useful Cash Flow Projector that lets you see the money your business will soon have available. QuickBooks 2004 Premier edition also adds new capabilities for managing loans, fixed assets, and vehicle mileage.
Intuit offers its Basic version for $200, the Pro version for $300, and the Premier version for $500. Even though ACCPAC International tacked on $9 this year to the 2004 version of Simply Accounting ($49 for the Basic version, $99 for the Pro version), the small-business program still delivers the greater value.
Both QuickBooks and Simply Accounting offer enough worthwhile new features to justify upgrading to the 2004 versions. If you're a QuickBooks user but you want to switch to a more economical product, Simply Accounting also includes a tool to import QuickBooks accounting data.
Intuit QuickBooks 2004
Pricey, but latest upgrade delivers good business-planning tools.
Prices when reviewed: Basic $200, Pro $300, Premier $500
Current prices (if available)
ACCPAC International Simply Accounting 2004
Strong small-business capabilities at a reasonable price, but industry customizations are limited.
Prices when reviewed: Basic $49, Pro $99
Current prices (if available)
At a Glance
Intuit QUICKBOOKS PREM 2004 (Full) (Intuit-279668)

ACCPAC SIMPLY ACCOUNTING 2004 PRO BI-LINGUAL (ACCPAC-10271U180C00)
Shop Tech Products at Amazon