At a Glance
Visioneer XEROX DOCUMATE 510 SCANNER 42-BIT 600X1200 50 PG ADF 10 PPM (Visioneer-XDM5105DWU)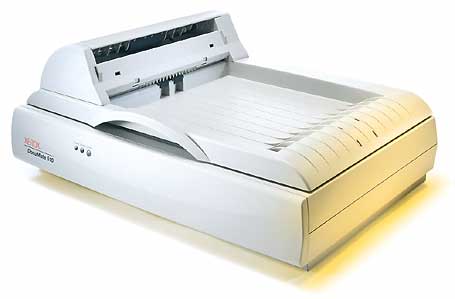 If you need to turn a stack of paper documents into editable electronic text, using a scanner with optical character recognition software and an automatic document feeder attachment--like Xerox's new $350 DocuMate 510--is a speedy alternative to typing.
In testing a shipping version of the DocuMate 510, I was impressed by both its speed (via its USB 2.0 connection) and its accuracy in converting a variety of sample documents ranging from simple legal contracts and multipage manuscripts to complex magazine pages with text and graphics. Using its proficient document-management software (ScanSoft PaperPort Deluxe 9), the scanner took a mere 2.5 minutes to scan and convert 20 pages into a nearly flawless Word document file. Xerox also includes both ScanSoft TextBridge Pro 9, an outstanding dedicated OCR application that provides more features than PaperPort Deluxe 9, and ArcSoft PhotoImpression 4, an image editor that offers easy photo retouching and enhancement tools.
While the DocuMate 510 is a flatbed model--and therefore takes up more desk space than a slimmer sheet-fed scanner (such as the pricier $495 Fujitsu ScanSnap)--its removable lid allows you to scan pages from books or other bound volumes, including oversize originals. For any business or workgroup that needs an affordable document scanner, the DocuMate 510 is a solid choice.
DocuMate 510
Xerox
Speedy, affordable document scanner ideal for small business.
Price when reviewed: $350
Current prices (if available)
At a Glance
Visioneer XEROX DOCUMATE 510 SCANNER 42-BIT 600X1200 50 PG ADF 10 PPM (Visioneer-XDM5105DWU)
Shop Tech Products at Amazon