ATLANTA -- A cell phone that only makes phone calls? Ha. The devices on display at the Cellular Telecommunications & Internet Association's annual show here this week go way beyond your basic handset. Here's a roundup of what was good, bad, and, well, let's just say unique.
Handsets and Handy Gear
HipTop Spreads Out: The makers of the well-received HipTop, also known as the Sidekick for T-Mobile subscribers, showed off a new version of the device. Judging from the demo, it's about an inch wider than its predecessor, but about 25 percent thinner. The added width is to make the device more phone-friendly, say representatives of Danger, the vendor.
The new design also incorporates volume control and rubberized sides to make it easy to hold. The navigation controls (up/down/side arrows, for example) are now external instead of on the internal keypad. The unnamed new model sports a built-in VGA camera with flash. It should be available by the end of the year, but the company was so hush-hush about this announcement that we don't even have a picture. Ssshhh.... --Grace Aquino

Motorola's Answer: If you like the supermini-notebook style of PDA ( à la Danger's HipTop and Sony's Clie UX50), you might consider the MPx. It's a dual-hinge device that opens in both portrait and landscape modes, and it has a tiny QWERTY keyboard and stylus. It runs Windows Mobile 2003 Second Edition, supports GSM/GPRS networks, and has built-in Wi-Fi, Bluetooth, and infrared. Also notable are its 1.2-megapixel camera with flash, 2.8-inch LCD, and SD (Secure Digital) memory card slot. The MPx is expected to be available in the second half of the year. --Grace Aquino
What's That in Your Ear? It's a Bluetooth headset. Jabra's BT800 has a built-in LED display to show Caller ID information and a Jog Dial to adjust settings. It has a vibrate mode and noise-reduction capability. Jabra says it includes a Digital Signal Processor to improve audio quality in noisy environments. Plus, it automatically adjusts volume level in response to background noise (similar to hearing aid technology). The 9-ounce BT800 will be available by the third quarter. --Grace Aquino

Type Text Messages Faster: The new Fastap keypad from Digit Wireless incorporates individual alphabet keys along with numbers. This design eliminates the need to tap on a number multiple times to find and enter a specific letter. The company will license the technology to cell phone makers and carriers; it's not yet available in the United States. --Grace Aquino
Software and Services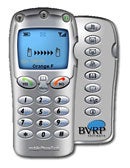 Totally in Sync: BVRP Software's Mobile PhoneTools does more than just sync your desktop phone book to dozens of supported cell phones. It also supports transfers of faxes, messages, ring tones, and even videos. On the PC, the software's user interface is an image of your phone that you can use to dial phone numbers on the connected phone. --Yardena Arar
Hear It, Buy It: Ever hear music on the radio or at the gym and wish you knew what it was? If your cell phone carrier offers Musikube's Mobile Music Identification System, that problem is solved. You call a number on your cell phone and hold the phone near the music source for several seconds. You'll then get a message with the name of the tune, the artist, and a brief sample. The identification is performed by "music fingerprinting" technology, and the service will also sell you the music via your cell phone. --Yardena Arar
Now, That's Different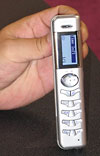 But Does It Write? Haier America, a unit of China's Haier Group, showed off its stylish P6 "pen phone." The device was recently introduced in Europe, and the company promises to release a newer model--the P7--in the U.S. later this year. The P6 is a slim 5.4 inches by 1.2 inches by 0.8 inches, which makes for a small keypad but a nice fit in a shirt pocket.
The P7 will be a similar size and will come with an integrated earpiece. It will support tri-band (900/1800/1900 MHz) GSM/GPRS and will have a color display, a 300,000-pixel camera, hands-free speakerphone capability, an MP3 audio player, and Java support. Also in the works is a flip-phone version of the design, which will fold down to half the height. The company won't reveal a price for the P7, but says it will cost slightly less than high-end and midrange competitors while including more features. Haier also plans to offer its Z7000 tri-band flip phone and the V1000 quad-band (850/900/1800/1900 MHz) flip phone in the United States. --Stephen Lawson

Brring-Brring, Bling-Bling: World Mobile Technologies' Cellular Jewelry isn't just a collection of cheesy-looking bracelets, watches, and pens. It's a collection of cheesy-looking bracelets, watches, and pens that sparkle--literally, via flashing colored lights--when you get a cell phone call. The lights are programmed to blink on and off whenever they're within 1 to 3 feet of the signal emitted by a ringing cellular device. --Yardena Arar

Keep Your Kids on a Short Leash: Wherify's new GPS Locator Phone features GPS tracking technology and a two-way speakerphone. Calling it a phone may be something of a misnomer, as it lacks an LCD and keypad. Rather, it has buttons for two preprogrammed numbers that you set through Wherify's Web site. The company is aiming the product at teens, adults, and families caring for sick relatives. Wherify will offer a $5-per-month concierge service to find local points of interest. Phone service is through Wherify's PCS network; subscription fees, which start at $10 monthly, will be based on minutes and uses. The GPS Locator Phone is expected to be available this summer for less than $180. --Grace Aquino
Scene and Heard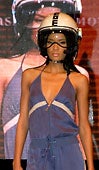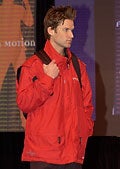 Runway Report: At CTIA's Fashion In Motion Show, models strutted down the runway to show off current, upcoming, and conceptual gear. Want to wear a digital photo album? This summer, Nokia will ship its Imageware line of $299 necklaces equipped with a tiny LCD and an infrared connection for uploading up to eight low-resolution images. And you can stay safe and connected with Motorola's Bluetooth-enabled helmet--when you're not riding, you can remove the Bluetooth headset from the helmet and clip it into your ear like a standard headset. If you want to recharge devices while on the road, wear the Solar ScotteVest. Codeveloped with ICP Solar Technologies, the $475 vest is embedded with solar technology for charging cell phones, PDAs, MP3 players, and other portable devices. --Grace Aquino

Chicago Comes to Atlanta: Kudos to Samsung for putting the "show" back into "trade show." The company's classy booth entertainment included a five-person troupe performing a medley of songs from the Broadway and big-screen hit Chicago. The tunes featured new lyrics lauding Samsung cell phones--even "All That Jazz."--Yardena Arar
Thumb-Typing Mania: Who can thumb-type fastest? Amid all the noise in the Research In Motion booth, the company hosted contests for the fastest Blackberry typist. Contestants pounded on the Blackberry devices as they tried to accurately type a paragraph as fast as possible. Meanwhile, the company showed off a new addition to its Blackberry family: The 7750, the first color CDMA Blackberry, will be available through Verizon Wireless in April. --Grace Aquino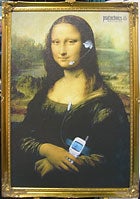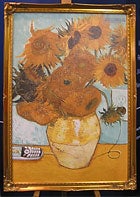 Eye-Catching Art: Psytechnics is known as a voice-quality measurement firm, but it displayed some visual art at its booth. On hand were artfully altered versions of Da Vinci's Mona Lisa and one of Van Gogh's famed sunflower series. The paintings were shown as they might have looked had cell phones been around when they were painted. Even for people with no interest in voice-quality testing, the paintings were eye-catching. --Yardena Arar
Baby Boom? 1988 must have been a big year for many of the speakers at this year's show. It seemed as if half the presenters told us that their 15-year-olds just love a certain mobile technology, content, or "edgy" marketing approach. Conveniently, that's about the age group the industry seems to be targeting with much of its advertising and product development. It's nice to know the lines of communication are open in the families of mobile-industry executives. --Stephen Lawson
The Halls Are Alive With the Sound of Ring Tones: Cingular CTO Bill Clift earned chuckles at the company's press-and-analyst breakfast by playing a selection of ringers. Those he demonstrated included the theme to Gilligan's Island and President Richard Nixon's "I am not a crook" speech. --Yardena Arar