At a Glance
Generic Company Place Holder Lenovo ThinkPad X40 Notebook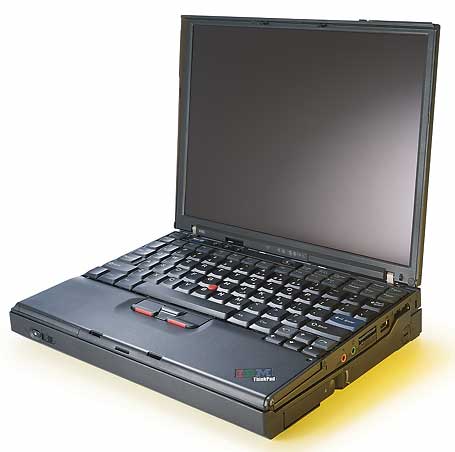 Airline travelers know quite well that big-screen notebooks aren't practical unless you can swing a wider, business-class seat. The new IBM ThinkPad X40 measures barely 1 inch thick and weighs just 2.8 pounds--nearly a pound less than its predecessor (the X31)--and it has a sharp 12.1-inch screen. So when you're wedged into coach, and the clod in front of you decides to recline his seat all the way back, you might still be able to get some work done if you're using the X40.
My first impression of the X40 was that it was too light--almost toylike. But its structure seems stronger than that of the twice-as-heavy ThinkPad T41, and the keyboard is fantastic, with comfortably large keys and lots of travel.
The $1924 shipping X40 that I looked at came with an ultra-low-voltage 1-GHz Pentium-M processor, 512MB of RAM, and Windows XP Professional, and it earned a PC WorldBench 4 mark of 104. That makes it sound poky compared with some of the barn-burner notebooks we've tested, whose scores have reached as high as 137, but I found it sprightly nevertheless. Other interesting features: IBM's Active Protection System, which parks the hard drive's heads if it senses the laptop falling; and the company's Rescue and Recovery system, which can boot the notebook and allow you to connect to the Internet for driver downloads, even if the operating system is hosed.
In our tests, battery life from the standard four-cell battery was 2 hours, 41 minutes--not bad, but a bit disappointing for a power-sipping processor. On the other hand, an optional $199 eight-cell battery that uses new hybrid lithium ion technology held out for nearly 6 hours when tested.
IBM ThinkPad X40
Thin, peppy, and startlingly light laptop feels solidly built.
Price when reviewed: $1924
Current Prices (if available)
At a Glance
Generic Company Place Holder Lenovo ThinkPad X40 Notebook
Shop Tech Products at Amazon