Roxio's Friendly New Look
At a Glance
Generic Company Place Holder Lenovo ThinkPad X40 Notebook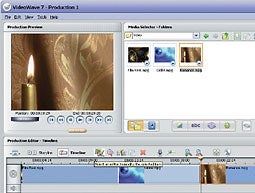 Roxio's Easy Media Creator (formerly Easy CD/DVD Creator), a set of programs that assist you in burning digital files to discs, has undergone an impressive makeover in Easy Media Creator 7. Gone is the hodgepodge of graphical user interfaces that made the older suite so difficult. Replacing them is a dazzling new interface standardized across version 7's applications.
The new launch pad is the biggest treat; not only does it let you start modules by task type or program name but it also handily keeps track of recent projects. My only complaint is decidedly minor: Navigation by Alt key combinations is missing from various dialog boxes and buttons.
The suite's mainstays are still on hand, albeit in much improved form: Creator Classic for mastering, Drag to Disc for packet writing and collecting data for mastering, Photo Suite for photo editing, DVD Builder for DVD creation, and VideoWave 7 for video editing and processing. The last three are now tightly integrated, so they share projects and launch one another when needed.
Version 7 is a few features shy of a complete set. The package is not as efficient as a single all-in-one app, there's no incremental backup, and support for more-arcane file types is limited compared with that in archrival Nero 6 Ultra Edition. All mastering and packet-writing basics are here, however, and advanced features abound: You get a full-fledged DVD-copy program (for use on non-copy-protected discs only), sound and photo editing, Cinemagic automated video production, and DivX encoding.
After receiving lots of user e-mail decrying prior versions' bugginess, I kicked version 7's tires hard and long, to a nearly bug-free result--though that's no guarantee of an equally smooth encounter for everyone. One caveat: Booting and switching between the apps often seemed a bit labored, even on my superfast Athlon 64 3200+-based system.
Roxio Easy Media Creator 7
Great new interface makes this suite more elegant than Nero 6.
Price when reviewed: $99, upgrade $79
Current prices (if available)
At a Glance
Generic Company Place Holder Lenovo ThinkPad X40 Notebook
Shop Tech Products at Amazon