News in Brief
Tidbyte
War of the Worms:

Security experts blame the jump in worm outbreaks on an escalating feud among virus writers. Antivirus vendors say the code in new variants of the Mydoom, Bagle, and Netsky e-mail worms contain text messages taunting other virus writers. They suspect the feud started back in January when the Netsky worm began removing Mydoom and Bagle worms from PCs.
Cased Closed?

Federal judges in California and New York have enjoined 321 Studios from distributing its controversial DVD X Copy program. The software, which can make exact duplicates of DVDs by sidestepping encryption codes, is under fire from many movie companies, which maintain that it violates federal copyright laws. Executives at 321 Studios promise to appeal the rulings and are now selling a "ripper free" version of DVD X Copy; users can update the software with free rippers available online.
Under Cover: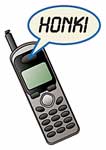 Have you ever wanted to disguise your true location when making a phone call? We haven't tried to use this yet, but it sounds like fun: Simeda has released an application called SounderCover that adds background noise to your cell calls. Late for work? The $15 application lets you pretend that you're caught in a traffic jam or waiting at the dentist's office. Or add the sound of a ringing phone for authenticity as you tell a long-winded interlocutor that you have to take another call. For a free demo, click here.
Feeling Refreshed:
Windows users who don't want to wait until Microsoft's expected release of Longhorn in 2006 to get their hands on a new version of the operating system may be in luck. The company reportedly is considering releasing an updated version of Windows XP in the interim. Microsoft has offered few details about the possible update, internally dubbed Windows XP Reloaded, but it would appear only after the release of the upcoming Service Pack 2 for XP. The software giant is also reportedly considering releasing an updated version of its Office 2003 suite to accompany the updated OS.