capsule review
HP Color LaserJet 9500n
At a Glance
Generic Company Place Holder Konica Minolta PagePro 1350W Printer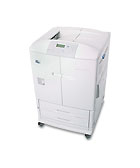 The Color LaserJet 9500n prints onto 12-by-18-inch paper using a vertical single-pass engine, and comes on its own rolling platform. With no accessories attached it stands 40 inches high, and weighs 220 pounds when empty. Having a separate base with wheels makes it possible to reposition the printer where you can reach its various paper trays and doors to clear paper jams and make room for HP's wide range of paper-handling options.
The 9500n proved rather slow, printing text on letter-size paper at 12.7 ppm, compared with 25.3 ppm for the Xerox's Phaser 7750DN, which offers similar capabilities for the same price. The 9500n printed graphics at an impressive 4.1 ppm, but the 7750DN was still much faster, at 7.2 ppm. The 9500n earned high honors across the board for print quality. It printed clean, crisp black text; produced even the narrowest and most densely grouped parallel lines nearly flawlessly; and captured lifelike details and reflections in gray-scale photos, with very smooth shading. It also printed the best color photos we've seen from a color laser, preserving sharp detail in highlights and shadows, and rendering smooth, realistic textures, though colors suffered somewhat from oversaturation. Even so, the prints were no match for a top-quality photo ink jet.
Size isn't the only big thing about the 9500n: It costs $6800. That seems like a lot of money for a printer, though the Xerox 7750DN costs about the same. The 9500n includes two 500-sheet feeders and a 100-sheet auxiliary tray as standard equipment. It also supports a 3000-sheet stacker that collates and staples; it costs $2020. The 9500hdn configuration includes a 2000-sheet tray that brings total capacity to 3100 sheets in four trays, as well as a duplexer and an internal hard drive--all for $9560.
We like the 9500n's design. The front opens French-door-style to expose the torpedo tubes where the toner cartridges and imaging drums slide in. A 250-page manual sits in a cubbyhole inside the doors--one of the few user manuals that HP still provides in paper form. Big flaps on the left and right sides provide access to paper jams. The control panel has a backlit LCD and crystal-clear hierarchical menus, with a plus sign to indicate menu items that have subitems, and arrows to indicate when you've hit the top or bottom of a list. The 9500n's control panel also has something extra: a numeric keypad for entering IP addresses, passwords, and other numbers directly instead of having to scroll through a list on the LCD.
The Color LaserJet 9500n delivers excellent image quality and lots of paper-handling capability, but considering its high price, the fairly average print speeds are disappointing.
Hewlett-Packard Color LaserJet 9500n
Rated 24 ppm text/24 ppm color laser. 16MB RAM standard, 600-by-600-dpi true resolution, 1100 sheets input, 600 output.
$6800
800/752-0900
www.hp.com
Dan Littman
At a Glance
Generic Company Place Holder Konica Minolta PagePro 1350W Printer
Shop Tech Products at Amazon