capsule review
Kyocera Mita Ecosys FS-C5016
At a Glance
Kyocera Mita Ecosys FS-C5016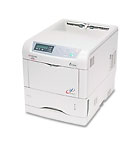 Kyocera's marketing pitch for its printers is low cost of ownership, and this product delivers. The first thing we noticed when we unpacked Kyocera's FS-C5016 is that there were no imaging drums to install. That's because Kyocera makes part-metal, part-ceramic drums that are designed to last the life of the printer, and builds them into the engine. Furthermore, Kyocera's toner is inexpensive, at only 6 cents per page--far cheaper than any other printer we put through our page-yield test, and less than half the test average.
The FS-C5016 is inexpensive at $2395, and its add-ons are also affordable. You can add a duplexer for $299, up to three 500-sheet feeders for $299 each, an envelope feeder for $219, and an internal hard drive for $479. Still, we think Kyocera is nickel-and-diming for charging $40 extra for the snap-on tray that catches output from the straight-through paper path; and the company ships the printer with half-empty cartridges, so you'll have to buy replacements sooner.
Print speeds were unremarkable. Text arrived at a very poky 10 pages per minute, only two-thirds of the test-set average. Text looked clean and sufficiently dark at normal sizes, though the very smallest font size didn't print at all. The FS-C5016 produced distinct narrow parallel lines, but its gray-scale photos appeared dotty and posterized. On the other hand, it produced better color photo quality than many competitors, rendering somewhat dark images but showing good detail and realistic textures.
We found the Kyocera's control panel confusing, because the menus are organized in a long list rather than in a tree structure, and subitems are not clearly indicated. Accessing paper jams is easy: The whole inside of the printer slides forward on rails, exposing everything. But installing the printer and its KM-Net software as a managed network printer under Windows Server 2003 was beyond the ken of an untrained technician--we couldn't even coax it to create a TCP port.
If low operating costs are your top priority, the FS-C5016 is a good choice, as long as you have the patience for its slow print speeds.
Kyocera Mita FS-C5016
Rated 17 ppm text/17 ppm color laser. 96MB RAM standard, 600-by-600-dpi true resolution, 600 pages input, 250 output.
$2395
800/232-6797
www.kyoceramita.com
Dan Littman
At a Glance
Kyocera Mita Ecosys FS-C5016
Shop Tech Products at Amazon