XScale Chips Gain Multimedia Power
Intel updated its XScale processor family Monday with the launch of the PXA270 series at the Intel Developer Forum in Taipei.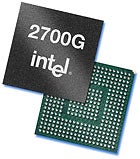 The new chips bring multimedia extensions from the desktop Pentium 4 family to the XScale line of chips, designed for personal digital assistants, cell phones, and smart phones, says David Rogers, wireless marketing manager for Intel. This Wireless MMX (multimedia extensions) technology will allow users to play high-quality video as well as three-dimensional games on their handheld devices, he says.
The PXA270 processors were formerly known by the Bulverde code name.
Going Mobile
Intel's XScale technology has been gaining prominence as an applications processor for the wireless world. Most of its success has come in the PDA world, with devices on the market from industry leaders Palm, Hewlett-Packard, and Dell. The earlier generation PXA260 series chips are also starting to appear in smart phones from Samsung Electronics, among others.
Outside of the recent success of Palm's Treo 600, consumers and businesses have not demanded high-powered handheld devices mainly because wireless carriers have not followed through on promises of high-speed wireless networks over which to exchange video and data. As those networks trickle out over the next few years, companies like Intel, Texas Instruments, and Motorola are preparing chips that can deliver the performance needed for advanced audio, video, and data communications while preserving battery life.
High-speed wireless networks are more advanced in countries like Japan, and parts of Europe are also starting to deploy third-generation wireless networks, says John Jackson, senior analyst with The Yankee Group in Boston. Those markets will likely provide the initial demand for the PXA270 processors and TI's new OMAP2 processors expected later this year, he says.
Chip manufacturers need to work together through industry organizations to create software tools that will allow developers to build compelling applications for wireless devices, Jackson says. The overall size of the market will be increased if compelling applications are available, allowing users to experiment and understand what they can do with these devices, and at that point a leading architecture will emerge, he says.
New and Improved
The new PXA270 processors can run at faster clock speeds than the PXA260 processors--up to 624 MHz from a previous high of 400 MHz, Rogers says. But the Wireless MMX instructions also allow the PXA270 processors to deliver increased multimedia performance at lower clock speeds, salvaging battery life, he says.
Battery life will also improve with the inclusion of Intel's SpeedStep technology. SpeedStep is a technique where the chip senses the amount of power needed to complete a given task, and alters the amount of power flowing through the chip depending on the application requirements, Rogers says.
Cell phones with integrated cameras have taken off with consumers in the consumer market even though most of those cameras take relatively poor pictures. Phones with the PXA270's new Quick Capture technology can take up to four-megapixel pictures, a significant improvement over the current generation, Rogers says.
More Secure
Another enhancement built into the PXA270 processors centers around security. Intel added a dedicated hardware engine for security that also contains software to improve commonly used security products such as VPN applications, Rogers says.
Manufacturers will be able to include digital-rights management technology in devices based on the new processors through a protected area of the chip. Entertainment industry companies are very skeptical about licensing their content for wireless devices without some type of DRM technology, but consumer advocates are worried about the prospect of limited ownership rights for movies and music.
Intel also announced the 2700G multimedia accelerator Monday. This chip, formerly known as Carbonado, is designed for smart phones and PDAs that require extra performance for sophisticated applications. It will allow users to view two images on a device's screen simultaneously, ideal for videoconferencing or delivering a presentation directly from the wireless device.
Phone designers can purchase the PXA270 processors by themselves, or add the 2700G chip for extra performance, Rogers said. There are four PXA270 series processors with differing levels of stacked flash memory. Each one of those chips is also available at four different clock speeds, 312 MHz, 416 MHz, 520 MHz, and 624 MHz, and with or without the security features.