capsule review
Logitech Cordless Click Plus Optical Mouse
At a Glance
Logitech Cordless Click Plus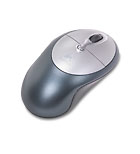 Note: After this review went to press, Logitech announced that the Cordless Click Plus Optical Mouse would not be available for purchase until late July 2004.
Talk about plug and play: Insert the mini receiver (about as long as a pack of gum) into an available USB port, boot up your PC, and start mousing around right off the bat with Logitech's $50 mouse. If you want to customize the buttons, take advantage of additional scroll wheel options, or adjust your cursor/pointer settings, then you install the software.
The pointer's movement in its default setting was smooth, and we had no need to tweak the settings. We also liked the extra tasks that the scroll wheel could handle after we installed the software: Pressing down on the wheel initiated zoom-in and zoom-out functions, which worked great on enormous spreadsheets and on digital photos with a lot of detail. In addition, you can move side to side in Microsoft Word files, say, by easing the scroll wheel to the right or left (you can move it in the usual up and down fashion, too).
The elongated right- and left-click buttons were easy to reach without stretching. The forward and back buttons were also easy for our right-handed testers to use; they're located at the top of the indented thumb rest on the left side of the mouse, and the forward button is slightly raised, so you can always tell which is which by feel. These buttons are not just for Web navigation: You can go forward and backward in PowerPoint presentations, Word documents, Windows folders, and so on.
Logitech's mouse is larger than most models, and its contoured design didn't lend itself well to tiny hands. Testers with small palms were inclined to slide down the back of the mouse, which meant extra stretching to reach the scroll wheel. In these cases, rather than keeping our hands in a constant position, we tended to shift up and down on the mouse to use the different buttons.
The shape of the Cordless Click Plus and the placement of its Web navigation buttons make it a device for righties only--left-handers won't find it comfortable to hold or use. (If you're looking for mice specifically designed for lefties, check out the Perfit Mouse or the Perfit Mouse Optical by Contour Design. The company offers small, medium, large, and extra large mice, and prices start at $109.)
Logitech reports that the mouse's two AA batteries--one set is included with the product--should last about three months.
Fans of big, wide, and contoured mice will like this product's easy installation, its additional scroll wheel options, and its forward and back buttons.
Aoife M. McEvoy
At a Glance
Logitech Cordless Click Plus
Shop Tech Products at Amazon