News In Brief
Tidbytes
Optical Disc Deluge:

In an apparent effort to further befuddle a populace already dizzy with next-generation optical-disc options, Taiwanese researchers recently introduced yet another: Forward Versatile Disc (FVD). Other high-capacity formats such as Blu-ray and HD-DVD rely on pricey blue lasers, but FVD drives will use today's less-expensive red lasers to create discs capable of storing 9.8GB (dual layer) on a single side. In contrast, current standard DVD discs hold about 4.7GB.
You had me at $1.6 Billion:

After years of bitter legal wrangling and snide public comments about monopolistic tendencies, Sun Microsystems Chief Executive Officer Scott McNealy recently made up with Microsoft CEO Steve Ballmer. McNealy went on to predict a future filled with cooperation, software compatibility, and mutual profitability. Smoothing the two companies' transition to best buddies were two Microsoft payments to Sun: one for $700 million to settle all pending antitrust issues and one for $900 million to settle all pending patent issues.
I Spy a Lawsuit:

Software vendors who spy on unsuspecting Utah residents could pay a steep price. Starting in May, any company that installs spyware onto a Utah user's computer without permission faces a $10,000 liability under the state's Spyware Control Act. While privacy advocates decry spyware, the same groups also believe a single federal law would be more effective than individual state laws. You just can't please some people.... Meanwhile, legislators in California and Iowa are also considering anti-spyware laws.
Product Pipeline
Pocket Memory: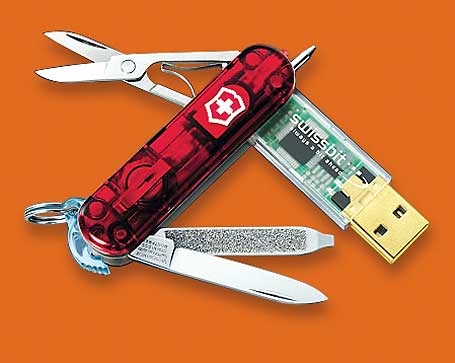 If the infinitely handy USB key has become the Swiss Army knife of computing, what do you call an actual Swiss Army knife with flash memory? Simple: Call it the SwissMemory USB knife, and put it on every techie's wish list. Victorinox's $69 product includes a blade, a red LED light, a nail file with screwdriver, scissors, a pen, and 64MB of flash storage.
Zires Aim Higher: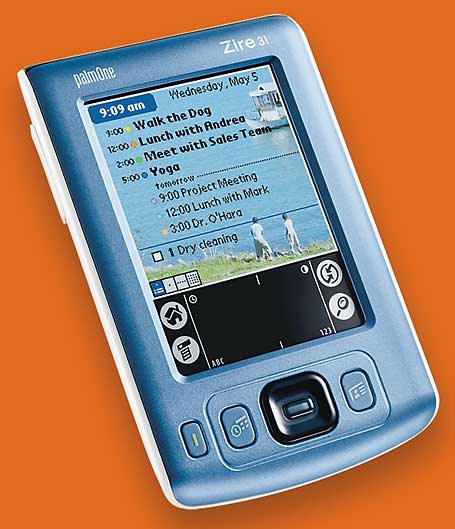 Waiting for a multimedia-friendly PDA that won't bust your budget? PalmOne's Zire 31 (left) delivers a color screen, an MP3 player, 16MB of memory, and an SD card slot for $149, a new low price for a color Palm. Also new is the $299 Zire 72, successor to the Zire 71. It has a built-in 1.2-megapixel camera capable of capturing video as well as still photos. Other extras: Bluetooth, 32MB of memory, and DataViz software for creating and editing Office-compatible files.
Personal Postage:
If you're bored with plain old stamps for your snail mail, check out Avery's Web-based Creative Postage Labels. At the Avery site, you can place any digital image (except pornography or commercial images such as corporate logos) next to that of a standard first-class mail stamp on stick-on labels sold in sheets of 20 for $20 (plus $3 shipping and handling). That's about $1.15 per label, a 78-cent premium for the privilege of seeing your loved one or a favorite snapshot on genuine U.S. postage.