Video Converter Preserves Memories
At a Glance
Plextor ConvertX PX-M402U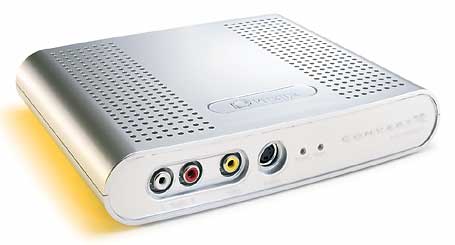 A funny thing happened on my way to reviewing Plextor's ConvertX PX-M402U video capture device: I learned that the only record I have of my 16-year-old son's third birthday party is worth far more to me than the $159 this handy little box costs. I was playing the precious VHS home movie when the screen filled with the moire-style interference often associated with a tape gone bad. Luckily, the tape was fine--our TV had bitten the dust. Using a shipping PX-M402U, I was able to convert the movie to digital video and then save it by writing it to optical media with my own DVD burners.
The PX-M402U connects to a DVD player, VCR, TV, or analog camcorder via its RCA composite audio/video ports or its S-Video inputs. The WinDVD Creator software included with the package lets you select source and output from drop-down lists; I used the highest-quality MPEG-2 settings for my conversion. You can easily capture video; edit it; add titles, transitions, effects, and music; and build menus. I burned my movie on my DVD-R recorder and then made a DVD+R copy with another burner. If you don't already have a DVD burner, you may want to look at devices, such as HP's $250 DVD Movie Writer DC3000, that both convert and burn.
What impressed me most about using the ConvertX was that I could see no difference between the digital copy it made and the tape original.
The PX-M402U's capture formats include MPEG-1, MPEG-2, MPEG-4, and DivX. WinDVD Creator allows you to burn your final video to DVD, mini DVD, or Video-CD, or to convert your video over to AVI, MPEG-1, MPEG-2, MPEG-4, ASF, WMV, or DivX movie file format.
Having found it so easy to ensure the survival of one precious tape, I plan to gather the rest of our home movies and convert them all. Bringing back the memories is worth the modest investment.
Plextor ConvertX PX-M402U
Great device easily converts analog video into superb digital copies in a variety of formats.
List: $159
Current prices (if available)
At a Glance
Plextor ConvertX PX-M402U
Shop Tech Products at Amazon