News on Demand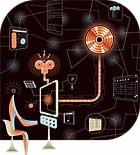 Most of us keep a mental list of our favorite Web sites--perhaps 10 to 15 destinations that we swing by every day. But usually only a few of them contain new stories that are worth reading immediately, so a habit of loading and scanning each of these sites daily can waste a lot of time.
Fortunately, you can make such time sinks a thing of the past, thanks to a Web standard called RSS. This standard lets sites publish a simple listing of headlines and story summaries (for more background, see "RSS: Hot Fix for Info-Junkies"). Using a simple program called an RSS reader, you can subscribe to different news feeds and rapidly sift through condensed news. When you find an item you like, you click the headline to open the Web page containing the full story.
Along with breaking-news headlines from online versions of publications like the New York Times, feeds can deliver everything from Weblogs and weather alerts to listings of new arrivals at your favorite record store or auction gallery. Feeds arrive in various formats, but the most common are RSS (which can stand for a number of things such as Really Simple Syndication or RDF Site Summary) and a new standard called Atom that expands on the capabilities of RSS. Both can be read by most available readers.
Also called "feed readers" or "RSS aggregators," RSS readers are one of the biggest new categories of software in recent memory. A quick online search will find more than 50 programs designed to scan subscription news feeds, and each one works a little differently than the others. Some are stand-alone applications; others plug into your e-mail client or your Web browser; and still others act as Web services, permitting you to access them from any browser. The type that will suit you best depends on your work style.
Most of these applications work very similarly, but a few go above and beyond the call of duty. After rounding up 18 RSS readers for this article, we picked the best representative of each type; there are five in all (see the features comparison chart). Go to our expanded chart for brief reviews of the other apps. After you've selected a reader, click here to subscribe to PC World's own RSS feeds.
Icons to Look For
How do you find out whether your favorite site has an RSS feed? Simple: You look for an icon like those displayed here. Some link directly to a feed; others go to a feed list.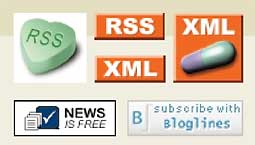 News in Your E-Mail
If Outlook already organizes your e-mail, calendar, and life, a reader like the $29 NewsGator 2 will deliver your news in the same place. NewsGator works as an Outlook plug-in, creating an area in your mail folders where you can store news feeds. Each feed appears as a folder, and you can organize the folders into topics as you like. You can configure the multipane display in the same two- or three-column layouts that Outlook uses, sort messages, hide or display previews of the full story, and add or remove columns.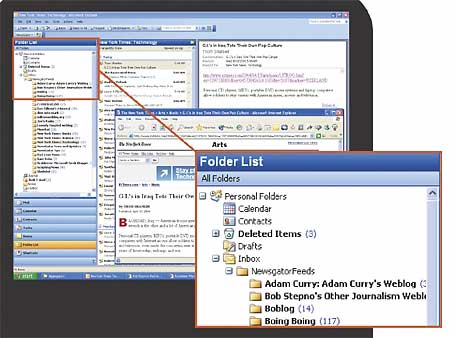 Adding new feeds is easy. When you discover one you like while browsing the Web with Internet Explorer, simply right-click the link and then choose 'Subscribe in NewsGator'. If you want more options, $6- to $50-per-month plans from NewsGator Online Services offer exclusive content and the ability to create custom feeds that search the Net for new information. Other subscription features let you read your news feeds from any Web browser, e-mail client, or Web-ready mobile device. A new plug-in even hooks into Microsoft's Windows XP Media Center Edition.
Browsing for Headlines
As Newsgator is to Outlook, a more-modest free application called Pluck RSS Reader is to Internet Explorer. Pluck adds an icon to IE's main toolbar. Clicking that icon opens an Outlook-like left panel containing folders that house its default collection of feeds. Click a feed name, and headlines and summaries appear in the top half of the main IE window. When you click a headline, the item's full content pops into view below the headline listing. You can subscribe to new feeds by dragging and dropping XML icons into folders or by using a subscription wizard that searches CompleteRSS.com for feeds on the topic you want. A Pluck icon in your Windows system tray offers news alerts when your Web browser is closed.
Though it worked fine with brand-name news summaries, the beta release we tested ran into problems with some blogs that put full-page content in their feeds. A Pluck spokesperson said this shortcoming would be fixed in a subsequent release that also promises a couple of new features to let you use search terms to filter a feed or group of feeds and create public folders so a group of people can easily subscribe to the same set of feeds. The Pluck folks hope to pay the bills with specialized search services (starting with Amazon's and EBay's) that will be tucked into a corner of the screen.
RSS for Road Warriors
A Web service like the free Bloglines can help you stay in touch if you do a lot of traveling or work on more than one computer every day. If you log in to the service at the office and read a few stories, you can check in later at home and pick up where you left off--without having to backtrack over already-read news. Bloglines can export your subscription list in a format that other aggregators can import, in case you decide that you'd prefer a plug-in or stand-alone app.
The Bloglines layout resembles the layout of desktop applications: a two-pane arrangement with your subscription list on the left and item headlines on the right followed by a summary of each. Items appear in alternating bands of white and light blue in the right frame. Each feed display can be set to show just titles or summaries, or complete entries (on feeds that support the feature). Bloglines also lets you view items in a feed from the previous hour, day, week, month, or longer increment of time. The service currently checks feeds for updates once per hour.
Plenty of other Web services perform similar functions. NewsIsfree.com, for example, has more feeds, but it also has pop-up ads galore. MyFeedster.com is another strong contender, especially for inveterate bloggers and for IS types.
Advanced RSS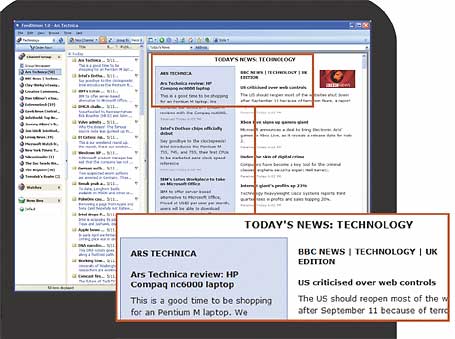 Stand-alone applications like Bradbury Software's $30 FeedDemon can give you more control over your news feeds. FeedDemon's strength is its flexible layout options. Want your news to appear in two columns, or with a retro "terminal" look? FeedDemon provides a number of ways to collect the items in a feed on one handy page called a newspaper. Just click one of the 13 style choices, or create your own. You can can configure the program in one, two, or three columns or select an Outlook-style three-pane layout.
The program's name doesn't rhyme with "speed demon" by accident. You'll save time with FeedDemon's one-window approach. The text-display pane is a full-featured Web browser. A feed's properties are configurable--you can specify, say, how often to check for new items. Fourteen groups of feeds come preinstalled. (The sports group, for example, includes feeds from Moreover.com, The New York Times, Yahoo News, and even PR Web.)
Further custom features: Watches are special channels that search incoming news items for keywords; News Bins are storage areas for items that you want to come back to; Auto-Discovery pops an icon into FeedDemon's status bar when a Web page in its browser has one or more RSS feeds, to permit easy subscribing.
Two-Way RSS for Bloggers
If your job--or passion--is to keep up with the news and comment on it, you'll appreciate an application like Userland Software's $40-per-year Radio Userland, which puts a full Weblog system on your desktop. Radio Userland (or Radio) descends from an aggregator that helped launch the RSS format in 1999, but it's much more than a feed reader. Its subscription price covers, among other things, hosting at Weblogs.com. All feed reading and blog editing are done in your browser.
Each element of the interface is a Web page that lets you control Radio through menus, buttons, check boxes, and text-entry fields. The aggregator page stacks the latest feeds in reverse-chronological order, each with a button that enables you to delete the item or post it to your Weblog. Preference pages let you set how often to poll sites and how many items to display on a page. New items on feeds you subscribe to appear chronologically on the same page: You can't reorder the items or sort them according to source.
A subscriptions page shows your feed list; a preinstalled collection includes New York Times and BBC pages and a sampling of blogs. You can subscribe to a blog from another Radio user with a single click, instead of performing the multistep process of copying and pasting into the subscription page required for outside feeds. With RSS 2.0, Radio supports feed attachments. For example, early adopter Adam Curry, a former MTV VJ, has been experimenting with many-megabyte video clips in his RSS feed. Radio sets the clips to download after midnight.
RSS Readers: Diverse Ways to Get News to Your Desktop
Of these best-of-breed selections from five types of apps, our Editor's Pick, FeedDemon, is flexible, while Pluck is beginner-friendly.
Which Feeds Do You Need?
Every reader includes a list of sites to get you started--sometimes hundreds of them, usually organized into categories like the sections of a newspaper. Here are some places where you can find more news feeds, followed by a few of our favorites.
Great sites for finding feeds:
Topix, which calls itself "the largest publisher of non-weblog RSS," combs through news sites and provides feeds for 150,000 categories of information.
Feedster searches RSS feeds and saves the results as a custom feed. Its Top 100 list is a good starting place.
NewsIsFree boasts 9000 channels, ranging from high-profile news sources to Weblogs.
You'll find more than 45,000 feeds in 47 languages at syndic8.com.
The Weblogs Compendium at Lights.com collects a fine list of news sources, companies, and government agencies with RSS feeds.
PubSub can perform a continuous search on blogs, newsgroups, and SEC/EDGAR filings and can create a custom feed to send you the results.
Great Feeds:
Future: Ads Are Coming to RSS
What started as a technique enabling bloggers to share links, comments, and original content has caught the eye of professional information providers and entrepreneurs. As RSS goes mainstream, publishers have started experimenting with ways to make their feeds pay for themselves. Here are a few examples of what the future may bring.
Interstitial page ads: The New York Times partnered with Userland to provide ad-free news summary feeds; but when you click a summary, you often encounter a sponsor's ad before being redirected to the Nytimes.com story page.
In-feed advertising: InfoWorld.com and some other publications have begun inserting plain text ads immediately after the text of their RSS feed items, much as Yahoo Groups mailing lists do with e-mail subscriptions.
Sponsors' links as feed items: Daypop.com--a current-events search engine that crawls major news sites and Weblogs--paid its bandwidth bills for the year simply by placing ads on its front page and inside its RSS Top News feed.
Value-added services: A number of sites sell custom RSS feeds based on searches. For example, RSSJobs.com will monitor the results of your job searches on HotJobs, Monster.com, and other sites, and deliver the results in an RSS feed.
RSS Readers (expanded chart)
There's Something for Everyone in Our Expanded Chart of 18 Readers