capsule review
In iPhone car kit face-off, TuneBase outpaces RoadTrip
At a Glance
Griffin Technology RoadTrip HandsFree

Belkin TuneBase FM with Hands-Free
The rise of the smartphone has meant the gradual decline of single-purpose devices in our lives. Whether it be something as antiquated as a calculator or as recent an invention as a portable music player or a GPS navigator, smartphones have relentlessly supplanted other devices by assimilating all of these disparate features.
In recent years, car makers have caught on to this trend as well. As a result, we are seeing an increasing number of vehicles released with iPhone integration built into the in-car dashboard and navigation system. But even if you have an older car that doesn't boast fancy iPhone compatibility, you can still enjoy all those comforts as long as your vehicle has some speakers and a regular old FM radio, coupled with an accessory power outlet (a.k.a., a cigarette-lighter outlet).
The two devices I am reviewing, Belkin's $100 TuneBase FM with Hands-Free and Griffin Technology's $100 RoadTrip HandsFree, serve an array of functions, starting with mounting your iPhone (or iPod), and charging it, in your car. You can play audio through the car's speakers and make and receive calls, all while charging the phone as it rests in the cradle. Each car kit is compatible with current iPhone and iPod models, as well as most older models that use Apple's 30-pin dock-connector port; for the sake of convenience, I'll collectively refer to them as the iPhone.
Belkin TuneBase FM with Hands-Free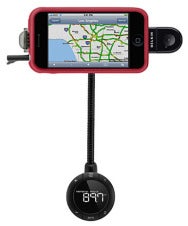 The Belkin TuneBase FM with Hands-Free puts a monochrome LED screen, with the unit's controls surrounding it, on the accessory-power-outlet plug; a USB port (for charging another device) and a 3.5mm audio-out port (for getting a direct audio connection, avoiding FM transmission) sit on the bottom of the plug. A flexible arm extends from the top of the plug and hosts an adjustable iPhone cradle with Apple's 30-pin dock-connector plug, a headphone jack, and a multi-function button for controlling media playback and calls.
To set up the device, you slide the included fit ring—a spacer for ensuring a tight fit—over the accessory-power plug and insert the plug into your car's outlet. As the detailed user manual instructs, it may require you to cut off one or more prongs from the ring (I folded two of them backwards to achieve the same effect) to ensure that the plug fits tightly enough to keep the plug from turning—and, thus, the cradle from tilting. In the two weeks I tested the device, it never once came loose, even during particularly bumpy rides.
After placing your iPhone in the cradle, you must connect an audio cable from the iPhone's headphone jack to the TuneBase to get the party started. Although the whole process takes only a few seconds, it can get cumbersome in the long run. Plugging in the headphone jack, in particular, seems like an unnecessary requirement—it's unfortunate that the TuneBase doesn't take Griffin Technology's approach, grabbing non-phone audio from the iPhone's dock-connector port and phone-call audio via Bluetooth. That said, I did find this old-fashioned approach to be more reliable.
Pressing the TuneBase's ClearScan button scans local radio frequencies—the process takes about ten seconds—to find the best (unused) radio frequency to use for transmitting your iPhone's audio to your car stereo. In my testing, the TuneBase usually found a good, clear frequency. You can save that frequency as one of two presets and then either manually scan for a second or have the TuneBase search for the next-clearest. You then just tune your car stereo's FM radio to the frequency displayed on the TuneBase's screen, and then press the Play button on TuneBase to begin transmitting.
In the first week of use, the TuneBase's audio quality was excellent. Both music and spoken-audio content (audiobooks and podcasts) sounded great to my non-audiophile ears, with no background hiss, even in the quietest settings. Call quality was also good—the TuneBase provides its own microphone—though callers did occasionally complain that my voice sounded like I was far away from the speaker.
However, by the second week of testing, audio transmitted from the TuneBase was accompanied by a barely noticeable, but persistent, background hiss, particularly when listening to podcasts encoded at low bit rates (as the vast majority are). A button on the TuneBase allows you to switch from stereo to mono audio and boost the volume level, but doing so also introduced a high-pitched and annoying buzzing sound, making that setting pretty much unusable.
Another drawback of the Belkin device is that, due to its use of the headphone jack to get audio from your iPhone, it does not play audio at full volume unless you manually increase your iPhone's volume level. Since the iPhone has separate volume settings for calls and all other audio, I often found myself having to manually adjust the volume on the iPhone in a moving car (which, I should remind you, is not recommended behavior).
The device's construction gets points for holding up under rough use, as it remained sturdy even after several extended trips on bumpy, pothole-ridden roads. The TuneBase's cradle design makes it possible to dock an iPhone with a reasonably slim case, and the cradle rotates effortlessly to allow you to use your iPhone in landscape mode, which is useful for some GPS-based navigation apps. The USB and audio out ports are welcome additions as well.
Griffin Technology RoadTrip HandsFree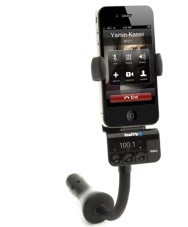 Like the TuneBase, Griffin Technology's RoadTrip HandsFree puts a docking cradle on a flexible stem attached to a small accessory-power-outlet plug. (A rubber ring helps you get a tight fit in the plug.) The cradle features an adjustable back, and it hosts a 30-pin dock-connector plug as well as a monochrome LED display and a row of four buttons for configuring the device and controlling the iPhone. The RoadTrip also includes a rubber support to hold the iPhone securely in place.
Securing the iPhone is simple: You dock your iPhone in the cradle, adjust a knob to position the back of the cradle flush with the iPhone's back, and then slide the rubber support over the iPhone. If your iPhone is case-less, you'll need to squeeze the sides of the support inward for a tight fit. You can then adjust the stem of the device to position the iPhone according to your preference.
A one-click SmartScan feature purports to find the best frequency for FM transmission. However, in my testing, the frequencies it found were usually poor choices—they seemed essentially. You'll be better off manually browsing frequencies to find one that's free (in other words, silent or full of static), and then saving that frequency as one of the RoadTrip's three available presets.
You can make this initial setup easier by downloading the company's free iTrip Controller iOS app. The app not only allows you to configure frequencies and manage your presets, but also provides a very useful feature I'll get to in a moment. The final step of the setup procedure is going to the iPhone's Bluetooth settings (in Settings > General > Bluetooth) and pairing the RoadTrip with the phone. (The RoadTrip uses the iPhone's dock-connector port for non-phone audio, but Bluetooth for phone calls.)
Once initial setup is complete, all you should need to do the next time you use the RoadTrip is insert your iPhone into the cradle and press Play on the RoadTrip. There are no headphone jacks to plug in or volume levels to adjust.
However, that's not how it works in practice. In my testing, the RoadTrip would intermittently forget the chosen radio frequency, and it would also erase all my presets, requiring me to go through the setup procedure again. I also found that the RoadTrip would frequently fail to connect to my iPhone via Bluetooth—I had to go to the Settings app on my phone and manually reconnect. More often than not, I would just pull over and detach the phone from the device to attend to a call.
Over two weeks of regular use, the device's flexible stem did not hold up well. With the iPhone in portrait orientation, it would gradually give way under the weight of the phone—on long drives, I found myself having to reposition the RoadTrip every twenty minutes or so. In landscape mode, it was even worse: The phone is flimsily supported on the back and sides, and as a result, it regularly disconnected from the dock-connector port, pausing playback.
The audio quality of music and voice was pretty good, with almost no hiss in the background. When listening to audiobooks and podcasts, changing the sound from stereo to mono using the iTrip app on the iPhone caused a marked improvement in the audio quality, eliminating all traces of any background hiss. Call quality, however, was poor through the RoadTrip's built-in micrxophone. I would regularly find myself having to shout while on a call to make myself audible to the caller; I eventually gave up trying to use the RoadTrip for calls.
Common flaws
Both of these devices suffer from two significant flaws. First, if you've got a vehicle with the car-stereo's antenna in the rear, neither built-in FM transmitter is powerful enough to provide a clear signal at that distance. You may also get a weak signal in newer cars with shielded antenna systems. Furthermore—and this is an issue with any FM-transmitter solution—if you live in a city where the FM airwaves are crowded, you may not be able to find a clear frequency to use.
The other problem is that music and voice volumes are considerably different—you'll find yourself having to increase the volume when a call comes in, and then decrease it when you resume listening to music or podcasts. In the time I spent testing these devices, I never got used to this.
Macworld's buying advice
After spending over a month testing these two devices, I have mixed feelings about each of them. Whereas the Belkin TuneBase FM with Hands-Free has a more-complicated physical setup procedure, the Griffin RoadTrip HandsFree has its own complications with software. The TuneBase is sturdy, while the RoadTrip is flimsy; the RoadTrip offers better audio quality, while the TuneBase has much superior phone-call quality.
The Griffin RoadTrip HandsFree held a lot of promise but its flaky construction and software bugs made it a hassle to use. It also suffered from poor call quality and weak FM transmission. However, if you find yourself driving mostly on smooth roads and don't mind having to manually tune the device again every time it loses its settings, its superior audio quality (especially in mono mode for lower-bit-rate files) can make up for its many shortcomings.
On the other hand, if you have an AUX port on your car's stereo system, the Belkin TuneBase FM with Handsfree would be the ideal companion for your iPhone in your car. Its problems are mainly with FM transmission, so if you take that out of the equation, it is a pretty handy gadget. If you must use FM transmission, the music quality is fine, but you might have to put up background hiss with audiobooks and podcasts. It also offers a very sturdy dock for your phone, securely holding it in both portrait and landscape orientations.
Whichever you choose, I recommend trying it out for a couple of days before pulling out your wallet—or at least buying from a store with a good return policy, just in case it doesn't work out for you.
[Aayush Arya is a frequent contributer to Macworld.]
This story, "In iPhone car kit face-off, TuneBase outpaces RoadTrip" was originally published by Macworld.
At a Glance
Griffin Technology RoadTrip HandsFree

Belkin TuneBase FM with Hands-Free
Shop Tech Products at Amazon