Twenty-one overlooked iOS accessories
Page 2 of 2
Extra-long dock-connector cables: Speaking of cables, I often want to use my iPad or iPhone while I'm charging it, but the relatively short length of Apple's USB-to-dock-connector cable means I can't stray very far from an outlet, let alone sit comfortably on the couch a few feet away. Several companies make extra-long cables for charging and syncing; I tested three this year that are worth considering. CableJive's xlSync ($13), available in black or white, is about the same thickness as Apple's cable but 2 meters (6.6 feet) long. Woodford Design's PowerLine (£10) is similar in thickness but gives you 3 meters (9.8 feet) of cable. Griffin Technology's 3 Meter USB to Dock Cable ($30) is also 3 meters long, but it's quite a bit chunkier than the other two—it should hold up to some abuse. The downside is that it's thick enough to be unwieldy at times, and its larger dock-connector plug doesn't fit the dock-connector opening in every iPhone, iPad, or iPhone case.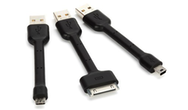 Griffin Technology USB Mini Cable Kit ($25): On the other hand, I've long been a proponent of cutting down on cable clutter when traveling. Griffin's USB Mini Cable Kit includes a trio of under-4-inches-long USB cables, each with a standard USB Type A plug on one end and a different connector on the other: mini-USB, micro-USB, and 30-pin dock connector. Between the three cables, you should be able to connect, charge, and sync your iOS devices, Bluetooth headsets and headphones, hard drives, and more.
Miscellaneous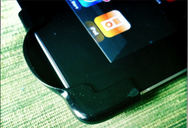 SoundJaw LLC SoundJaw ($20; $35 for two): Nearly three years ago, I reviewed Ten One Design's SoundClip, a clever accessory for the iPhone 3G and 3GS that clipped onto the bottom of the phone, covering its bottom-mounted speaker to redirect audio towards you. The SoundJaw is a similar product, but for the iPad. This accessory clips onto the lower-right corner of the iPad and redirects audio from the tablet's rear-mounted speaker towards the front. I've found that audio is considerably easier to hear with a SoundJaw on my iPad, and, as with the SoundClip, it's even louder if the iPad is in landscape orientation and you're holding the tablet with a hand in each corner—instead of blocking the speaker, your hand acts as an extension of the SoundJaw. The SoundJaw won't fit an iPad with an all-over case, but it works great with Apple's Smart Cover.
[Dan Frakes is a Macworld senior editor.]
Updated 12/19/2012, 9:40am, to note the discontinuation of the MonoPrice Power Bank battery.
This story, "Twenty-one overlooked iOS accessories" was originally published by Macworld.
Shop Tech Products at Amazon