capsule review
Battle by Ships -- PirateFleet for iPhone
At a Glance
Generic Company Place Holder Battle by Ships ~ PirateFleet+ for Friends

Generic Company Place Holder PirateFleet for Friends
Call it Battleship with Friends. UnitedToy has taken the asynchronous turn-based gameplay formula popularized by Words With Friends and applied it to the classic board game where you try to sink your opponent's fleet of ships. The resulting iPhone and iPod touch app—Battle by Ships—PirateFleet—is more hit than miss, though you may find yourself wondering just how well this kind of game adapts to the asynchronous format.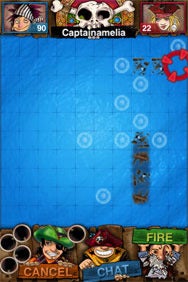 As a reminder, asynchronous turn-based games aren't played in real-time. Instead, you make your move and go about your business until your opponent responds in kind—that could be in a few minutes, or it could be in a few days. As a result, these sorts of games progress at the pace you and your opponent dictate—a welcome turn of events for casual gamers who don't want to devote a block of time to play around on their iPhone, but don't mind making a quick move here and there.
In PirateFleet, then, you take your turn by firing off five shots in squares that make up a 10-by-10 grid. (As the game progresses, you get fewer shots per turn.) Your opponent follows suit. Each of you are trying to sink the other's fleet of five ships. The scenario will be familiar to anyone who ever whiled away a rainy day or a family game night playing the Battleship board game.
UnitedToy's app differentiates itself from the Milton Bradley board game by taking on a pirate theme. Instead of aircraft carriers, submarines, and destroyers, you're looking to sink a bunch of differently-sized galleons. PirateFleet also adapts a patois that would fit right in on International Talk Like a Pirate Day. Everything—from the game's instructions to the notifications you get when it's your turn—is translated into pirate patter. (The pirate-heavy dialogue will delight many players, though, honestly, I think the game overdoes it just a little bit.)
Of course, to take part in this swashbuckling, you've got to find an opponent; PirateFleet gives you a number of options in this regard. You can invite a friend to play—"Invite Me Mates" in PirateFleet's parlance—search by name or email address for other PirateFleet players, or have the game pick an opponent at random. Once your foe accepts your invitation, the battle begins—you use a finger to drag your boats into place on the game board, and tap when its your turn to fire. You can also take advantage of in-game features like chat to engage in the pirate equivalent of smack talk.
Battles end a little abruptly for my taste. If you wind up on the losing side of the ledger, you're simply notified that your fleet has been sunk; you've got to watch a replay if you want to see the particulars of your defeat. PirateFleet does keep a record of all your skirmishes, making it easy to challenge opponents to another match; you can also measure how you've fared against a particular opponent in previous battles.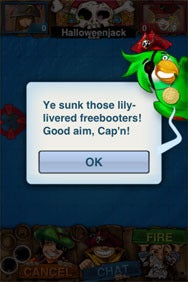 PirateFleet certainly tries hard to be a compelling iOS game. The game board, for example, features shimmering blue water—many developers wouldn't have bothered within anything beyond a static blue background. The sound effects when you fire off a shot—the roar of the cannon, the heartbreaking splash of water when your shot if off the mark—also impress. In other areas, though, PirateFleet tries a little too hard. There's the unceasing pirate talk, for starters, and the game's background music—a stirring epic score straight out of Master and Commander—never stops playing unless you go to the game's settings and turn it off.
The biggest problem with PirateFleet, though, may be the very nature of asynchronous turn-based play. Word games lend themselves to this kind of format. It's easy to play a word, set down the game, and resume once it's your turn again without missing a beat. With PirateFleet—which is essentially a guessing game—that approach feels more disjointed. Many players won't mind picking up battles where they left off hours or days ago, but I found it hard to get back into the swing of things when it was my turn to play.
The free version of PirateFleet gives you the opportunity to see for yourself if asynchronous gameplay works for you. If it does, you'll quickly want to upgrade to the paid version of the game, and not just because it removes the limitations on the number of battles you can wage. The free version also is rather ad-heavy, serving up an ad at the end of every turn. It's a little too much to bear, even for the low price of free.
A pirate's life may not be the life for me, not in this format anyhow, but I recognize that a turn-based, pirate-themed version of Battleship will suit other gamers just fine. UnitedToy at least puts enough swashbuckling features into PirateFleet to make the game appealing to those looking for a change of pace.
[Macworld.com editor Philip Michaels doesn't know what you mean by "yo ho ho" but he likes the part about the bottle of rum.]
This story, "Battle by Ships -- PirateFleet for iPhone" was originally published by Macworld.
At a Glance
Generic Company Place Holder Battle by Ships ~ PirateFleet+ for Friends

Generic Company Place Holder PirateFleet for Friends
Shop Tech Products at Amazon