Sharp LL-T17D4
At a Glance
Generic Company Place Holder LL-T17D4-B Black 17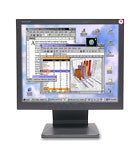 The Sharp LL-T17D4 allows for some customization, with its three display modes and a special stripes-and-colors screen on which to optimize your settings. The thin bezel doesn't distract from the screen. However, its scores on our image quality tests were on the low side. In our juried tests, the LL-T1794 earned a middling text rating of 69.3, but its graphics rating of 62.3 is the lowest among those we tested for our July 2004 issue. While this monitor would suffice for text-only work, other models offer better text for less money.

The average price and below-average image quality of the LL-T17D4 make it one of the less desirable monitors we've seen lately.
Sharp LL-T17D4
17-inch screen, 1280 by 1024 native resolution, 13.9 pounds; vendor does not disclose panel type; dual analog and digital inputs. Three-year warranty (including backlight); 24-hour daily tech support.
$499
800/237-4277
www.sharpusa.com
Laura Blackwell
At a Glance
Generic Company Place Holder LL-T17D4-B Black 17