First Tests: Intel's New Chip Sets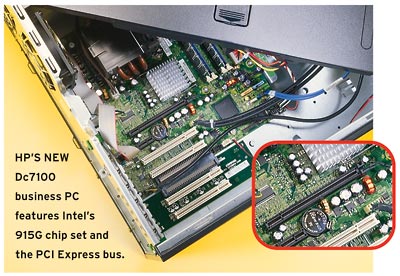 Intel is rolling out three new chip sets this week that offer technologies the company says will improve PC performance while adding features. Systems and motherboards based on the new chip sets are already starting to appear in stores, and most will cost little more than current products.
"This is the most extensive, most ambitious PC platform improvement in years," William M. Siu, vice president and general manager of Intel's Desktop Platforms Group, said at the company's launch event in San Francisco. The chip sets support Intel's current lineup of desktop processors, including the Pentium 4.
The 915G and 915P Express chip sets (both code-named Grantsdale) will go into everyday consumer and business desktops, replacing Intel's current 865 product, while the 925X Express (code-named Alderwood) will appear in gaming and enthusiast PCs, replacing the current 875 chip set.
All three chip sets support PCI Express, the faster PCI bus that will supersede the AGP bus for graphics and will eventually replace current PCI slots. The chip sets also introduce such features as support for speedy dual-channel DDR2 memory, third-generation integrated graphics for better video, Intel's own flavor of RAID (called Matrix), and optional built-in wireless networking capabilities.
Score Sheet
To get a peek at the new chip sets' prowess, PC World tested a preproduction Hewlett-Packard Dc7100, the new, $1349 flagship business model with the 915G chip set. HP expects to begin shipping the PC in the next few weeks.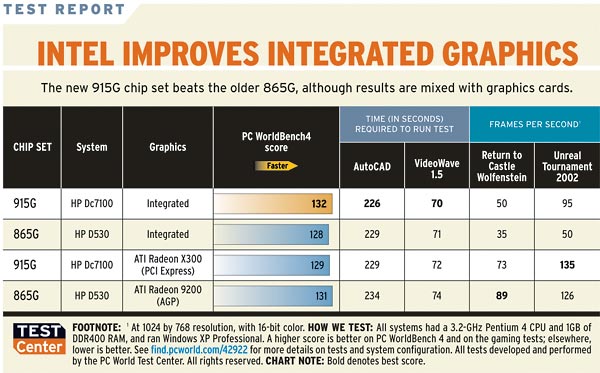 We compared the Dc 7100 with a $1299 HP D530 (which the new model replaces) that uses the existing 865G chip set but is otherwise identically configured (prices are without monitors). Each system was tested using its integrated graphics, and then again with an add-in graphics card (ATI's AGP-based Radeon 9200 for the D530 and ATI's PCI-Express-based Radeon X300 for the Dc7100).
The two machines earned nearly the same scores on most tests (to view test results, click on the image above), but they differed considerably on 3D games. There, the Dc7100 significantly outperforms the D530 when using the integrated graphics, thanks in part to the new chip set's support of DirectX 9 and its capability to use up to 224MB of the PC's main memory for graphics (versus 64MB on the older version).
Oddly, though, with an AGP graphics card, the older D530 outran the Dc7100 with a comparable PCI Express card on the Return to Castle Wolfenstein graphics test. That may be because the Dc7100's graphics card drivers are new and not yet highly optimized.
Express Features
The most significant new feature in the 915 and 925 chip sets is the PCI Express bus. The aging PCI bus could move data at 133MB per second, and read and write tasks had to share that bandwidth. In contrast, PCI Express X1 provides dedicated bandwidth for read and write tasks, at 250 MBps each. And the PCI X16 slot, a longer slot for add-in graphics cards, performs at up to 4 GBps-nearly twice the 8X AGP's 2.1 GBps. This should spur development of more-powerful cards that handle more data and deliver smoother, more-realistic effects for gamers and graphics pros. The new and old buses should coexist for a while, so users won't have to throw out all of their old cards.
The principal differences between the 915 and 925X chip sets are in graphics and memory support. The 915G has integrated graphics; the others do not. And 915 PCs can use either DDR2 or traditional DDR (as the HP unit tested did), whereas the 925X uses only DDR2 memory. All three support fast, serial ATA hard drives with Intel's RAID technology (called Matrix), plus Intel's new High Definition Audio feature, which enables support for all popular audio formats and multichannel streaming.
All in all, whichever new chip set you buy, you'll get a performance winner, and you won't pay much more for it.
PC World Senior Associate Editor Tom Mainelli contributed to this report.