Page 2 of 2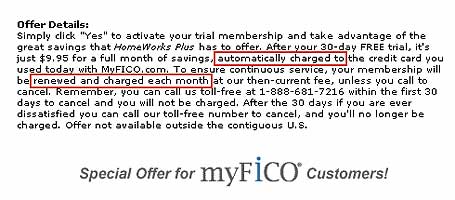 Better Business Bureaus in several states are also investigating both MemberWorks and Trilegiant. In Nebraska, where MemberWorks was founded, the BBB in December 2003 suspended the company's good standing while investigating complaints--normal procedure during an investigation.
Scott Mecham, Nebraska BBB president, says the number of complaints is not disproportionate for a company of MemberWorks' size, but the bureau is concerned they are all similar: Users didn't understand they would be charged a fee and were upset that a company unknown to them obtained their billing info without their consent.
The Connecticut BBB has received 1760 complaints about Trilegiant, many involving online transactions, says Paulette Hotton, president. The overwhelming majority involve consumers alleging unauthorized charges to their credit cards and difficulty canceling the service, she adds.
Not-So-Free Cards
PC World looked at some of MemberWorks' and Trilegiant's online promotions and found disclaimers that the companies obtain billing data from other firms with which they do business--but that disclosure information is often literally in fine print.
For example, placing an order at credit-rating site MyFICO.com in May prompted a MemberWorks invitation for a free $25 Lowe's gift card and a 30-day trial for HomeWorks Plus, a shopping discount service. At the bottom of the page, an "Offer Details" section explained: "After your 30-day FREE trial, it's just $9.95 for a full month of savings, automatically charged to the credit card you used today with MyFICO.com." A second disclaimer appeared beneath the form to enter an e-mail address twice to accept the terms of the agreement.
More prominent was the text "$25 Gift Card Details" and "Find out how," both linking to a section on collecting the $25 gift card. A link to decline the offer was at the bottom of the page.
In a written statement MemberWorks said, "We believe that MemberWorks has the most stringent pro-consumer policies of any company in our industry."
Nevertheless, online shoppers will be wise to heed this old advice: Read the fine print.