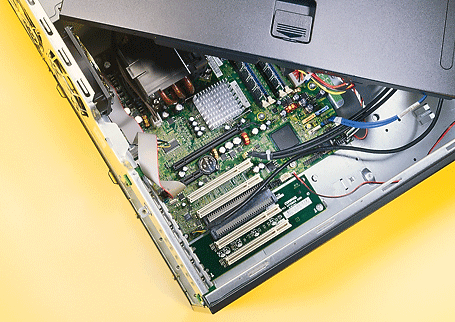 Although chip sets--the hard-working assistants on a motherboard--rarely make front-page news, Intel's latest, designed for Pentium 4 systems, definitely deserve your attention. First, they mark the debut of PCI Express, the faster PCI bus that will supersede the AGP bus for graphics and will eventually replace current PCI slots. And second, they introduce such features as speedy dual-channel DDR2 memory, third-generation integrated graphics, and optional built-in wireless networking.
By press time, Intel will ship three new chip sets to replace its 865 and 875 chip sets. The 915G and the 915P Express (both code-named Grantsdale) will appear in everyday consumer and business desktops, while the 925X Express (code-named Alderwood) will go into gaming and enthusiast PCs. All three chip sets lack AGP slots, but motherboard makers may add them later.
Score Sheet
To get a peek at the new chip sets' prowess, we tested a preproduction HP Dc7100, the new, $1349 flagship business model with the 915G chip set. We compared it with an identically configured, $1299 HP D530 (which the Dc7100 replaces) using the 865G chip set (prices without monitors).
The two PCs earned nearly the same scores on most tests (see the chart), but they differed considerably on 3D games. There, the Dc7100 significantly outperformed the D530, thanks in part to its new integrated graphics, which support DirectX 9 and can use up to 224MB of the PC's main memory for graphics versus 64MB for older versions.
Oddly, though, with an AGP graphics card, the older D530 outran the Dc7100 with a PCI Express card on Return to Castle Wolfenstein. That may be because the Dc7100's graphics card drivers are new and not yet highly optimized. (Look for in-depth tests on PCI Express graphics cards next month.)
Express Features
The most significant new feature in the 915 and 925 chip sets is the PCI Express bus. The old bus worked at 133MB per second, and read and write tasks had to share that bandwidth. In contrast, PCI Express X1 provides dedicated bandwidth for read and write tasks, at 250 MBps each. And the PCI X16 slot, a longer slot for add-in graphics cards, performs at up to 4 GBps--or nearly twice the 8X AGP's 2.1 GBps. This should spur development of more-powerful cards that handle more data and deliver smoother, more-realistic effects for gamers and graphics pros. The new and old buses should coexist for a while, so users won't have to throw out all of their old cards.
The principal differences between the 915 and 925X chip sets are in graphics and memory support. The 915G has integrated graphics; the others do not. And 915 PCs can use either DDR2 or traditional DDR (as our HP unit did), whereas the 925X uses only DDR2 memory. All three support fast, Serial ATA hard drives and Intel High Definition Audio (enabling support for all popular audio formats and multichannel streaming).
All in all, whichever new chip set you buy, you'll get a performance winner, and you won't pay much more for it.