Dialed In: Do You Hear Your E-Mail Ringing?
Nextel would be just another mobile phone company were it not for its unique Push To Talk walkie-talkie service over its Motorola-based cell phones and IDEN network. At least the service was unique until this year, when other carriers, eyeing Nextel's success, began to offer their own versions of PTT. Nextel's is still the best implementation: The company proudly points out that during the 9/11 attack on the World Trade Center, when most other cellular networks were not functioning, its DirectConnect PTT service suffered no down time.
But now that other carriers are emulating Nextel's 10-year-old PTT service, the company has to do something to further distinguish itself. Say hello to "Push To Mail," Nextel's NextMail e-mail service.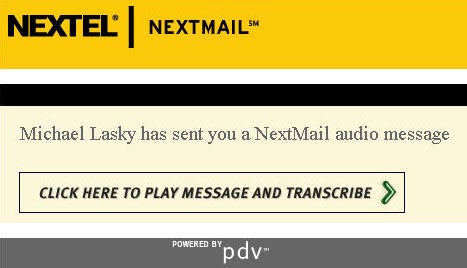 Using the same PTT button on the side of their phones, Nextel customers can now send a voice message via the company's new NextMail e-mail service. Recipients get an e-mail with a link to a page that plays the voice message--but this works only if the recipient has Windows Media Player version 6.4 or later. Alternatively, you can check off a box to have the voice message sent in MP3 format as an e-mail attachment.
Coded Messages
I admit I was a tad skeptical of the whole voice-mail-to-e-mail concept before I tested NextMail. And after flailing about in the setup process I was initially convinced that this was taking a good idea and stretching it a bit too far. But now that I've got it working, I have to admit that NextMail can be a convenience, especially for those who have come to depend on the PTT service.
Setting up NextMail is a two-part process.
First, I logged on to Nextel's NextMail page, where I registered my wireless phone number. Then I started entering names and e-mail addresses into the Web form. You can enter info for up to 1000 individuals, and you can also create group lists with up to 50 different names in each list, so you can import long contact lists. Nextel gives you the option of importing names from Microsoft Outlook or Outlook Express address books, or from a comma-delimited data file. I entered some names manually just to see how the process worked.
Each time you click the Add button to enter a new name and e-mail address, Nextel updates the Web page by inserting a unique 13-character code for that name. Regardless of how many contacts you've entered, Nextel will allow you to assign these codes only to 30 individuals, but there's no limit for groups.
Second, I needed to get these codes--called Private IDs--into contact entries on my cell phone. If all goes well, Nextel's server sends a text message with the code to the phone, and you simply scroll to the person's name in your phone book, select Store Number, and then hit OK to add the code to the contact's Direct Connect field.
When I assigned a code to a contact that was in my cell phone book, the process worked flawlessly. But things went less smoothly when I tried to assign codes to people who weren't already in my phone book. No text message appeared on the phone; I had to create those contact entries first.
Can You Hear Me Now?
Now I was ready to send a NextMail message--to myself. As with the PTT process, it takes a few times to figure out when to push the PTT button and when to release it since the service can only send or receive at any given moment. (You know--like a walkie-talkie.)
After sending a few messages that consisted of nothing but a single beep when played back, I finally adjusted my timing and was able to record messages. But the record volume seemed to be too low; I wasn't able to hear my test message well. Again, it was all in the technique: I was holding the phone like a microphone, away from my face, which was natural since no one was talking back to me. When I held the phone to my face like normal and recorded a message, the result was great.
My message was encoded in Windows Media Audio format, and Windows Media Player opened automatically when I clicked on the link in the e-mail the service sent. The Web page the link brings up has an area where the recipient can type in a written reply, which is sent instantly to the sender's phone as a text message.
Any Nextel subscriber can use the NextMail service, provided they activate DirectConnect capability. Its cost depends on your service plan and how many messages you want; the cheapest plan is about $40 per month.
If you prefer leaving voice messages to typing, NextMail can prove worthwhile for communicating regularly with people without necessarily speaking to them live--or for contacting people who find e-mail less intrusive than phone calls or instant messages.
Excuse me, I have to go now--I think I hear my e-mail ringing.