Page 3 of 8
How do I protect the data on my laptop while I'm traveling?
Before starting on a journey, back up your laptop with one of the options discussed above. Once you're on the road, choose a weight-conscious backup option to keep your evolving data safe.
Back up online: If you expect reliable broadband access while traveling, or if you have relatively little data to back up, you can handle the task online. ISP mailboxes generally top out at 25MB or less; but MSN's Hotmail will soon offer 250MB of storage with its free service, and Google's free Gmail gives you 1GB--plenty of room for you to e-mail a copy of a multimedia-laden PowerPoint file to yourself. Online backup services provide utilities for uploading data from your system to their servers, and charge based on capacity. IBackup, for example, charges $15 per month for 4GB.
Back up to a USB flash memory drive: A USB flash memory drive is a handy, extremely robust means of backing up 1GB or less of data. These tiny wonders are becoming increasingly capacious and affordable: The M-Systems DiskOnKey Classic 512MB costs about $100, half what it cost a year ago; and Memorex's 1GB TravelDrive sells for $250.
Use a travel-size hard drive: As with desktop PCs, the quickest way to back up everything on your laptop is to use an external hard drive--albeit a small, bus-powered drive (no AC adapter required), such as CMS Products' pocket-size ABSplus Portable USB 2.0 drive. Alas, less weight means more cash: The 80GB version of the drive costs a whopping $350 ($4.37 per GB), versus just $300 for the 300GB Maxtor OneTouch desktop drive.
The ABSplus has some added perks. Its bundled BounceBack Professional software lets you transform the unit into a bootable duplicate of your notebook's hard drive; if your notebook's main drive dies, you can boot from the ABSplus and get back to work (your system BIOS needs to support booting from USB 2.0). Alternatively, if your laptop doesn't support booting from an external drive--and you have a screwdriver handy--you can remove the drive from the ABSplus enclosure and install it in your notebook.
The 4200-rpm ABSplus drive backed up and verified our 15.9GB notebook data set in a little over 37 minutes, without compressing data. By comparison, Maxtor's 7200-rpm OneTouch backed up the same data, but with both data verification and performance-sapping compression, in 43 minutes--just 6 minutes more time.
Tip: Organizing and storing your data in one location--for example, My Documents--makes it easier to manage and back up, especially when you're traveling.
Keep your data in sync: Synchronizing data between your laptop and your desktop PC or a network server ensures you'll always be working on the most recent version of a file, and it provides a quick means of creating a second, off-site copy of those files. Plus, when the desktop or server gets its regularly scheduled backup, so will your notebook data.
Windows' own built-in Briefcase syncing software is useful, but limited. It only recognizes the files that have changed between syncs; it doesn't track file additions or deletions. By contrast, dedicated syncing software monitors additions and deletions as well as updated files. SimpleTech's $19 StorageSync Professional 1.4 lets you control only whether or not to overwrite files. VCom's Folder Synchronizer, part of the company's $40 PowerDesk Pro 5 file management software, lets you specify that you want to copy only the newest files between folders. The most impressive features of Michael Thummerer's $25 AllSync Home Edition are its preview function (which lets you see what files are being copied and deleted during a sync) and its preset tasks such as mirroring and copying new files.
Synchronization utilities alert you to conflicts and give you ways to resolve them, but you have to be careful not to delete data accidentally. Before syncing, confirm that each system's date and time are set identically, so you don't accidentally overwrite the wrong file. Also, choose files for syncing carefully: With some application files, such as a Microsoft Outlook .pst mail database, you could end up overwriting your most current data file.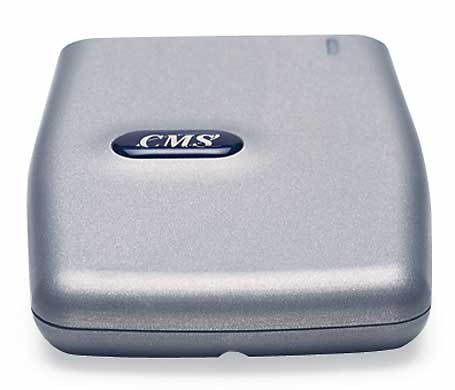 CMS Products ASBSplus Portable
$350
80GB, 4200-rpm hard drive
USB 2.0 interface
CMS BounceBack Professional 5.5
Required 37 minutes to back up 15.9GB of data, with the software's default settings of data verification and no compression.
Current prices (if available)