Page 4 of 8
I'm a packrat with tons of photos and documents. What's best for long-term storage?
To preserve your files for posterity, archive them on removable media that you can store off site, away from your home or office. DVD media is perfect for this job: It's cheap enough to permit you to make multiple copies of your backups, and both the write-once and rewritable flavors of DVD media retain their integrity better than magnetic media, such as tape and hard-drive platters that are constantly accessed.
Archive to write-once DVD: Inexpensive, easy-to-store recordable DVD-R or DVD+R is your best bet for archiving. Disc manufacturers claim that write-once media has a shelf life of about 60 years, based on simulated, accelerated-life tests; that's far longer than magnetic media. Nonetheless, if you're archiving irreplaceable data, we recommend backing up your data to two discs, keeping the copies in different locations, and checking them periodically to confirm that the content is intact.
If your data fits on a single DVD, using standard DVD mastering software to back up is fine. Otherwise, use backup software, which can span discs and perform incremental or differential backups.
In our tests, the $180 Sony DRU-700A took 1 hour, 34 minutes to write and verify 8GB of data to two 8X DVD+R discs, and 2 hours, 9 minutes to back the data up to one 2.4X DVD+R Double Layer disc. Ahead's Nero BackItUp spent 22 minutes compressing the data before mastering it (other packages, such as Retrospect, use packet writing), and it spent about an hour on verification. Actual write times were about 15 minutes and 45 minutes, respectively.
We recommend that you skip compression when using backup software with optical media. Native file copying is faster, and it ensures that any application in the future, including Windows' Explorer, can read your archive discs--an important consideration if you're putting the discs into deep storage. We also suggest enabling data verification to confirm that the data transferred to the disc safely, with no errors caused during the burn process.
Use rewritable DVD: If you constantly update your data--for example, by frequently adding new scans to a family photo album--rewritable DVD is among the safer ways to store it. Surprisingly, the most suitable media for this task is DVD-RAM, which has a higher reliability specification (up to 100,000 rewrites) than DVD ± RW (rated for up to 1000 rewrites); all three rewritable formats have a lower longevity rating (about 30 years) than write-once DVD. DVD-RAM has superior defect management, too, so the media can better compensate for errors or scratches on the disc. Also, DVD-RAM discs have a scratch-resistant coating that you rarely find in other DVD formats.
Our tests show LG Electronics' $200, 5X-rated Super-Multi GSA-4120B is the fastest DVD-RAM drive yet, but with compression and verification enabled on Nero BackItUp (a $50 upgrade to the bundled version of Nero), it took 2 hours, 25 minutes to back up 8GB of data. That's 43 minutes slower than the time we recorded for 4X DVD+RW--a difference caused in part by DVD-RAM's hardware read-after-write verification to ensure that the data wrote to the disc correctly.
Tip: Some backup programs, including those from Stomp and Dantz, maintain catalogs to help you organize multidisc backups. This makes it easier to find and restore data.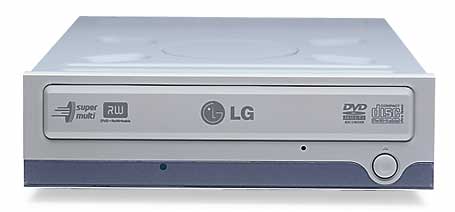 LG Electronics Super-Multi GSA-4120B
$200
12 DVD+R, 4X DVD+RW, 2.4X DVD+R Double Layer; 8X DVD-R, 4X DVD-RW; 5X DVD-RAM
Internal IDE drive
Ahead Nero Express 6.3
Required 2 hours, 25 minutes to back up 8GB of data to two 5X DVD-RAM discs, using defaults of compression and verification.
Current prices (if available)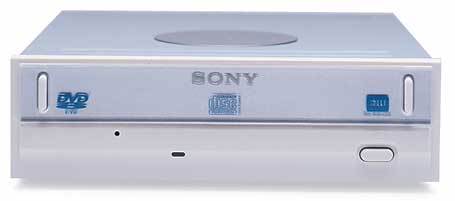 Sony DRU-700A
$180
12X DVD+R, 4X DVD+RW, 2.4X DVD+R Double Layer; 8X DVD-R, 4X DVD-RW
Internal IDE drive
Ahead Nero Express 6.3 (version includes Nero BackItUp)
Required 1 hour, 34 minutes to back up 8GB of data to two 8X DVD+R discs; 2 hours, 9 minutes to back up to one 2.4X DVD+R DL disc; and 1 hour, 42 minutes to back up to two 4X DVD+RW discs; all tests used the default settings of data compression and verification.
Current prices (if available)