Page 7 of 8
Choose the Right Software for Your Backup Strategy
We recommend a two-part approach to system backup. In the first phase, create an image file of your boot drive so you can recover from catastrophe (see "What's the quickest way to get up and running following a catastrophe?" for more). In the second phase, protect your data regularly using traditional backups or native file copying.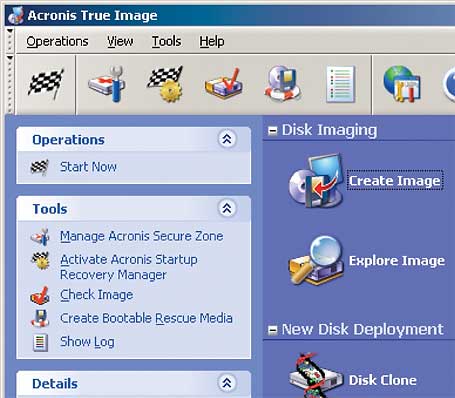 For imaging software, two worthy choices are Acronis's $50 True Image 7 and Symantec's upcoming $70 Norton Ghost 9 (we looked at a beta of this program, and found it borrows heavily from Drive Image 7, which Symantec gained during its recent acquisition of PowerQuest). Both programs offer intuitive Windows interfaces, excellent graphical user interfaces for use during recovery when your system won't boot, plus full and incremental images.
The software you use during the second phase of your backup strategy depends entirely on what you're backing up to and what features you need (see table for more). Despite its high $129 price , Dantz's Retrospect Professional 6.5 garnered a Best Buy because it does virtually everything you'd expect from a backup program. Our pick for the budget Best Buy is Argentum's $25 Backup 2.1, due to its ease of use.
The steal of the review, though, is the free standard edition of SimpleTech's StorageSync, a slick-looking app that simplifies selecting, backing up, restoring, and syncing files (graduate to the $19 Pro 1.4 version to get compression and password protection). But Argentum Backup 2.1 impressed us more, thanks to its clean design, use of standard .zip compression, and ability to keep multiple versions of each backup. Both programs work only with hard drives (Argentum works with optical drives as long as third-party packet-writing software is installed).
If you want features like encryption and the ability to back up to optical media, you'll have to spend a few more bucks. LI Utilities' $50 WinBackup 1.85 supports optical drives, and it offers superstrong 256-bit AES encryption, too. Ahead's Nero BackItUp 1.2 (part of the $100 Nero 6 Ultra Edition CD/DVD suite) and NTI's $80 BackupNow 3 each offer encryption and frequent driver updates to support new optical drives. BackItUp is powerful, but sometimes counterintuitive to use; NTI's easygoing step-by-step wizard is more straightforward, but it lacks native file copying.
Uniquely, CMS Products' $79 BounceBack Professional 5.5 software can create a bootable copy of your hard drive without imaging. Regrettably, however, the program needs an interface overhaul--separate modules handle the backup and restore chores. Also, with no compression, encryption, or support for tape, its price tag is too steep.
NovaStor's $80 NovaBackup 7.1 has a friendly, wizard-driven interface and wide device support (including the Sony Professional Disc for Data drive), but it's pricey considering it can't create disaster recovery boot discs.
A much better value is Stomp's $60 BackUp MyPC 5 Deluxe--which handles tape drives as well as optical and hard drives. With its disaster recovery features and superclean, intuitive interface, BackUp MyPC is a great program, but it has a few limitations. It lacks native file copying, and it can't shut down your PC after an end-of-day or overnight backup, a few of the features offered by our second Best Buy, Dantz's Retrospect Professional 6.5.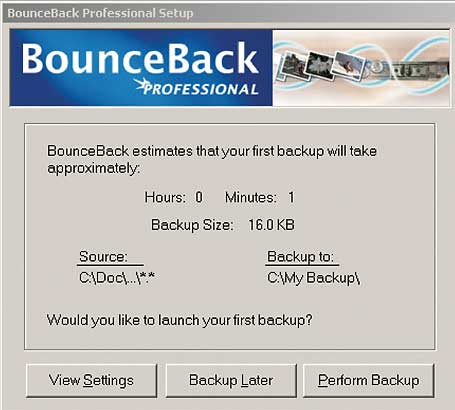 Retrospect's interface is inelegant yet functional. We liked how it automates restoring an incremental backup (unlike other programs, which might require you to restore several incremental backups before you revert to the date you want). It's also the only program to include two clients, for backing up two other computers that reside on the same network.
See our comparison chart: Premier Backup Packages