Page 3 of 5
Functional Improvements
Of course, Windows XP Service Pack 2 isn't solely about security fixes; Microsoft couldn't resist inserting a few other interesting new features into this update.
One is a mea culpa of sorts: In the original XP release, Microsoft integrated support for wireless networks, dramatically simplifying the process of configuring and connecting to wireless networks. But XP made it too easy to connect to insecure wireless networks, so in XP Service Pack 1 the company added an annoying click-through dialog box. Every single time you tried to connect to a Wi-Fi network without security, you would get a warning. Outraged users found that they couldn't even connect to their own home networks easily anymore because they had no way to turn the alert off.
In SP2, Windows still raises an alarm the first time you connect to a wireless network that has no security turned on, but you get a chance to override its objection permanently. Once you do so, every time you try to connect to the same insecure network thereafter, Windows won't complain.
The new Wireless Network Connection applet (which appears when you right-click the wireless adapter's system tray icon and choose View available wireless networks) is a model of clarity compared with the previous version. Now, at a glance, you can peruse the available wireless networks, determine their relative signal strengths, see if they're protected, and easily access the settings for the wireless adapter, among other features.
Also, SP2's Wireless Network Setup Wizard dramatically improves the process of initially setting up and connecting to wireless networks. The software even includes a way to move wireless settings from PC to PC using USB flash drives, a surprising but welcome new capability.
XP's wireless network support still lacks some features that are found elsewhere. Mac OS X, for example, makes setting up a peer-to-peer wireless network very easy. This functionality is next to impossible to replicate in XP, and the Wireless Network Setup Wizard does nothing to help.
Shoot-out at the OS Corral: XP vs. the Others
MacC OS X and Linux have improved steadily over the years and are superior to Windows in some ways. We looked at the two alternatives and offer our thumbs-up, thumbs-down verdict on how they compare with Windows in significant areas.

No More Bluetooth Blues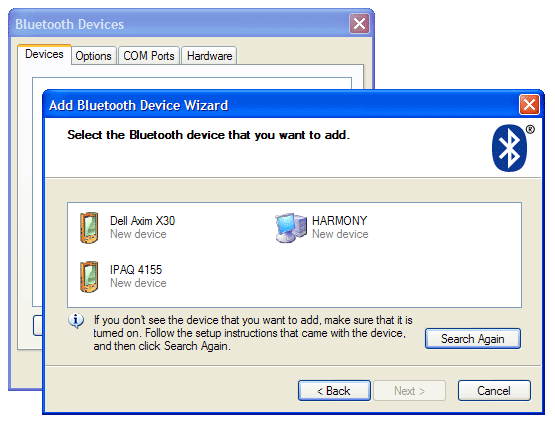 Bluetooth users, rejoice. XP SP2 includes Microsoft's Bluetooth Client 2.0, a dramatic improvement to its Client 1.1, a tool that supported only Microsoft's own Bluetooth keyboards and mice. Version 2.0 introduces a Control Panel applet (which appears only if you have a Bluetooth radio in your PC), a well-designed wizard for discovering and configuring Bluetooth devices, and a tray icon to help you access the Client and monitor connected Bluetooth devices. The wizard also allows you to choose a passkey for any connected Bluetooth device--an important feature that "locks" the device to the PC so that the device can communicate only with that single computer.
From the Bluetooth tray icon, you can easily launch the Bluetooth Devices Control Panel applet, send or receive files with compatible devices, join a Bluetooth-based Personal Area Network for file sharing, or perform other related tasks. You can also selectively suspend individual Bluetooth devices, which can conserve a laptop's battery power. It's as straightforward as it should be, and for the first time the Bluetooth support in XP rivals that of OS X, previously the undisputed Bluetooth champ. Linux, by comparison, offers only rudimentary support for Bluetooth devices.
Tablet PC Edition Gets a Face-Lift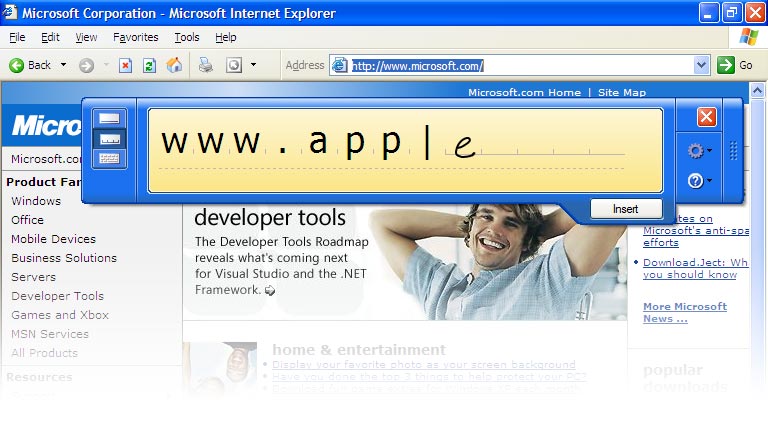 Users of Windows XP Tablet PC Edition who install SP2 will find their system updated to Windows XP Tablet PC Edition 2005. Included is a new context-sensitive Tablet Input Panel, which is what Microsoft calls the dialog box that appears whenever you use a stylus to insert text in a document. In earlier versions, the TIP always had a fixed location at the bottom of the screen; now it appears directly below wherever you want to insert some text. The new TIP also adds real-time handwriting recognition, so you can correct the text before it's transmitted to the underlying application.
Shop Tech Products at Amazon