Latest Peachtree Offers Few Additions
At a Glance
Best Software Peachtree Accounting 2005 CD-ROM Single Seat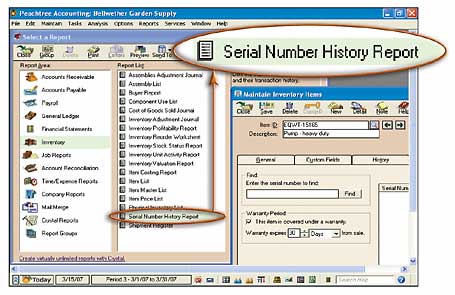 The Peachtree Accounting 2005 line of small-business software provides several worthwhile enhancements for businesses that sell products. But if you're in a service industry, you may find that there's not much new in it for you.
A key product-related feature in the newest version is serialized inventory. Available only in the $500 Premium edition, it helps businesses selling big-ticket items track individual product serial numbers for service, warranty, and other purposes. Also new in the Premium and Complete editions is the ability to automatically generate purchase orders anytime your inventory falls to a specified level, ensuring that you don't run out of stock.
Other Peachtree improvements, such as the capability to e-mail accounting reports and financial statements, are useful for all businesses. Integration with Microsoft Word lets you copy accounting data into a Word document. For example, you can easily generate a letter requesting payment for overdue invoices.
I tested shipping versions of three Peachtree editions. The $200 Standard Peachtree Accounting is a basic application with good overall accounting functionality for small businesses that have fewer than 25 employees. The $300 Peachtree Complete features more-advanced inventory and job-costing capabilities, as well as fixed-asset tracking. And the $500 Peachtree Premium edition builds on Complete by adding the serialized inventory tool, extended three-year budgets, and consolidation of multiple financial statements.
Peachtree has a utility that can convert and import data from Intuit's QuickBooks and Quicken. But if you are happy using QuickBooks, there are few reasons to move to Peachtree, since the latest comparable products offer virtually the same capabilities.
Best Software Peachtree Accounting 2005
Solid small-business accounting package offers few new tools.
Price when reviewed: Standard $200, Complete $300, Premium $500
Current prices
(if available)
At a Glance
Best Software Peachtree Accounting 2005 CD-ROM Single Seat
Shop Tech Products at Amazon