Page 2 of 4
Wi-Fi Enters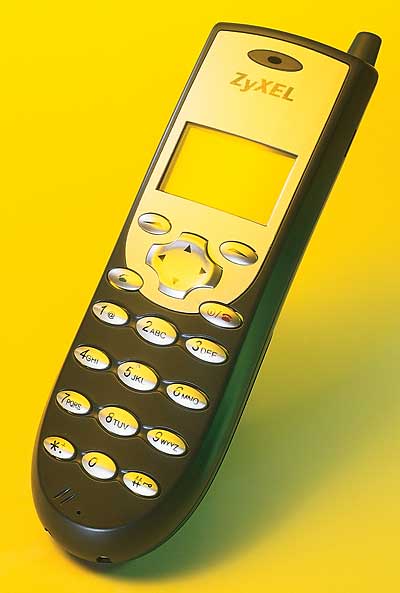 Another development in VoIP calling is a clutch of Internet phones that work with 802.11 Wi-Fi networks. Vendors such as Belkin, Pulver Innovations, and Zyxel are pushing hard to market these devices, which look a lot like typical cordless house phones. A Wi-Fi Internet phone, however, can sense Wi-Fi access points and link automatically to the Internet. Wander into a Wi-Fi hotspot location (where you have a subscription service), and your Internet phone can place and receive calls.
Walk the Talk
So how easy are the latest phones and services to install and use? In my tests with two new products, I spent significant time troubleshooting.
With Zyxel's new Prestige 2000W VoIP Wi-Fi Phone, the first model that I received refused to work with any of the popular wireless routers I tried. The second behaved the same way until I obtained Zyxel's ZyAir B-2000 wireless router (this phone later worked nicely with a D-Link DI-614+ router, as well). Less than a minute after that, I was making calls.
The 2000W's range on my 802.11g network was only about 25 feet, and at that distance call quality was marginal. But business travelers may flock to these Wi-Fi phones, since they'll let users make calls on their unlimited Internet phone service dialing plan from public hotspots, whether in an airport, an office building, or a local café.
Launching CallVantage involved similar glitches. After signing up, I received a kit containing the D-Link adapter, which required just a few seconds to hook to the cable modem, home network router, and phone. Once I started everything up and logged in to the CallVantage Service site, however, the D-Link unit failed to complete an online registration step. After struggling on my own, I spent about an hour with technical support before learning that my Internet service provider blocks access to the network port that CallVantage relies on to communicate with the adapter.
The next day I tried the unit using a friend's DSL connection and was able to quickly complete the process.
Call quality was excellent, without the momentary voice dropouts (very short lulls) common with my Vonage service. When I uploaded a 2MB file during a CallVantage call, the other party noticed no change in call quality. By contrast, trying the same upload with Vonage produced a blizzard of pauses and dropouts.