Page 4 of 4
Hidden Costs: Consider Before Switching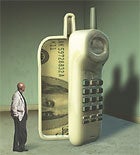 Low rates and slick features are nice, but Net phone service remains a mixed bag for consumers and businesses alike. As the Federal Communications Commission and Congress continue to mull new taxes and regulations on these services, the savings from a switch seem likely to shrink. And frustrating network setup issues--I probably spent 6 hours total trying to get AT&T's CallVantage to work--can overwhelm all but the most technically astute users.
What's more, Internet phone service call quality and consistency continue to trail that of traditional fixed-line service. VoIP is also more susceptible to outages--if you lose either power or your broadband connection, you're out of luck.
Consider, too, whether older products and services you use rely on standard phone lines. Digital video recorders commonly need a fixed line to post updates from their central servers. And home security systems require a standard line for calling the central office when an alarm is tripped.
Other issues loom. For instance, providers have begun enabling the migration of existing phone numbers between service providers--the process is called number porting--which can be both difficult and time-consuming. No mechanism exists for recovering phone numbers from a defunct Internet phone company.
"Imagine picking the wrong Voice over IP company," says Andy Abramson, an Internet phone industry watcher. "You migrate the phone number you've had for 20 years over to the wrong company, they go out of business, and nobody wants to buy them. What happens to your phone number? How do you get it back?" Today, unfortunately, nobody really knows.