TOKYO -- The summer months are proving good for Japan's electronics vendors.
The Olympic Games in Athens are pushing many people to finally buy that plasma or LCD television that they've been dreaming about. Also, the time difference between Japan and Greece is helping sales of video recorders, particularly those that use hard drives or DVDs.
Even the weather is helping promote technology sales: A brilliant start to the summer with central Tokyo temperatures hitting a record high of 103 degrees, followed by more than a month of 80-degree days, has helped Fujitsu and Hitachi sell air conditioners.
The gadget front has been quiet, as is typical for summer, but the season hasn't been without some interesting introductions. At the top of the list is Hitachi's latest hard-drive video recorder. It supports HDTV, which is exactly the market that Blu-ray Disc and HD-DVD are pursuing, but as a hard-drive player it can offer basic recording functions at a lower price. You can't back up the recorded shows onto disc, because DVD doesn't support HDTV--but hard-disk support for high-definition content may actually slow the demand for next-generation optical disc recorders.
Hitachi HDTV Recorder

Hitachi has developed a hard disk-based video recorder that supports HDTV recording. Two models are available: the DV-DH400T has a 400GB drive, and the DV-DH250T has a 250GB drive. The 400GB model has enough space for 40 hours of HDTV or 555 hours of standard-definition TV programming.
The device also has a DVD recording function. But because DVD doesn't support HDTV, users are limited to recording standard-definition TV. The recorders will become available in Japan in October. Hitachi expects to price the DV-DH400T at $1820 and the DV-DH250T at $1443. The company has no plans for an international launch.
Sony Cyber-shot DSC-P150 Digital Camera

The megapixel race continues, with Sony announcing its budget-priced 7-megapixel Cyber-shot DSC-P150.
The camera is proudly trumpeted as the first pocket-size model to offer 7-megapixel resolution, although that capacity may be overkill for the average amateur photographer. Other features include a 3X optical zoom and support for PictBridge, which allows the camera to be directly connected to a printer without needing a PC. Start-up time is 1.3 seconds and shutter lag--the delay between pressing the button and the shutter releasing--is 0.3 seconds. Sony will ship the DSC-P150 in both Japan and the U.S. in September, priced around $500.
NHJ Digital Jukebox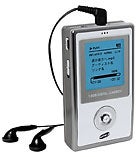 Digital music players from Apple and Sony may be stealing all the headlines, but if you want lots of features you might be better off looking elsewhere.
NHJ's VHD-1500 is a digital music player equipped with a 1.5GB hard drive and support for MP3, WMA, and Ogg format music playback. You can hook it up to a CD player and rip songs directly into MP3 format, and the device even has a built-in FM radio tuner. It uses USB 2.0 to connect to a PC, and NHJ says the battery lasts 18 hours.
It's available now in Japan and costs $253. Sony has revealed no plans for an overseas launch.
Toshiba Qosmio Notebook

Toshiba's Qosmio notebook is optimized for multimedia.
Features include a Toshiba-developed image processing chip and other enhancements such as the addition of a second backlight in the LCD to offer a brightness equivalent to that of a flat-panel television. The Qosmio includes a TV tuner and has a Linux-based system that enables the notebook to begin showing TV images almost immediately. Without it users would have to wait for about 30 to 60 seconds for Windows to start, then log in and launch the TV software.
Three models are scheduled to be on sale in Japan by the end of August; they are to ship in the U.S. in mid-August. They'll also be available worldwide by October. Street prices begin at $1864. Toshiba is also developing two additional models for release by year end.
Kyocera Finecam SL400R Digital Cameras

Kyocera is issuing five new models of its Finecam SL400R digital camera with a tip of the hat to Apple's IPod Mini, which recently launched in Japan.
The specifications are unchanged from the basic version of the camera, but the SL400R now comes in the same five colors as Apple's music player: silver, gold, pink, green, and blue.
The new cameras will be on sale from late August through Apple Japan's online store and its retail store in Tokyo. The 4-megapixel camera has a 3X optical zoom and measures 2.5 inches high, 3.9 inches wide, and just 0.6 inches thick. No price has been announced, but the standard version of the camera can be found priced as low as $245.
Onkyo DVD-Audio/SACD Player

Audio equipment-maker Onkyo is launching in September what may be one of the least expensive players to support both the DVD-Audio and Super Audio CD formats.
The DV-SP502 also supports DVD-Video and recordable DVD and CD media, and plays discs with MP3 and WMA audio files and JPEG image files. It is scheduled to launch in Japan in early September priced at $439. Onkyo hasn't announced any plans for an overseas launch.
The DVD-Audio and SACD formats offer a higher quality sound than is available from conventional CDs, although they have failed to make any major inroads into the CD market. Recordings in these formats are most often found in the classical or jazz sections of music stores.
NTT DoCoMo F900iC 3G Mobile Phone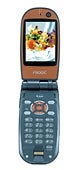 NTT DoCoMo's latest Wideband Code Division Multiple Access handset is the first 3G phone from the company to support its new all-in-one "electronic wallet" service.
Embedded in the F900iC is a contactless integrated circuit card based on the Mobile Felica system that was developed by NTT DoCoMo and Sony. The system is used in several electronic money and prepaid transportation systems in Japan, allowing consumers to buy goods or ride the train by passing a card over a sensor. Users now must carry a card for each application. The F900iC consolidates these cards, allowing users to pass the handset itself over a sensor to pay for various goods or services. The appropriate amount is deducted from a balance loaded into the handset in advance.
Developed by Fujitsu, the handset is available in Japan now, priced at about $236. An overseas launch is not planned--and it is unlikely, since phone networks differ worldwide.
Sony Qualia MDR-EXQ1 Headphones

If the first word that comes into your head when you think about Sony's Qualia brand is "expensive," then this new pair of headphones--sorry, "stereo ear receivers"--won't do much to change that impression.
The headphones offer a frequency response between 5 Hz and 24 kHz, rated power of 100 milliwatts and sensitivity of 101 decibels per milliwatt. As you might expect they weigh almost nothing: 0.3 ounce.
The MDR-EXQ1 is the same model that's bundled with the Qualia MiniDisc player, and it carries the rather impressive price tag of $191. The headphones are available in Japan now and have not been announced for other markets.
HD-DVD Prototypes
Previewed in Tokyo this summer were a couple of prototype machines that support the High Definition/High Density-DVD next-generation optical disc format.
The system, which is intended for high-definition video content, is being developed largely by Toshiba and NEC, and both companies showed off prototype hardware during an event in July. An HD-DVD can store 15GB of data, which is enough space for 180 minutes of high-definition video. Commercial products are due to ship in 2005, when they are likely to compete with the Blu-ray Disc format, which is being developed by Sony and 13 other companies.